3R PETROLEUM ÓLEO E GÁS S.A. ("3R" or "Company") (B3: RRRP3), following best practices in corporate governance, informs its investors and the market in general the preliminary unaudited production data for March 2023.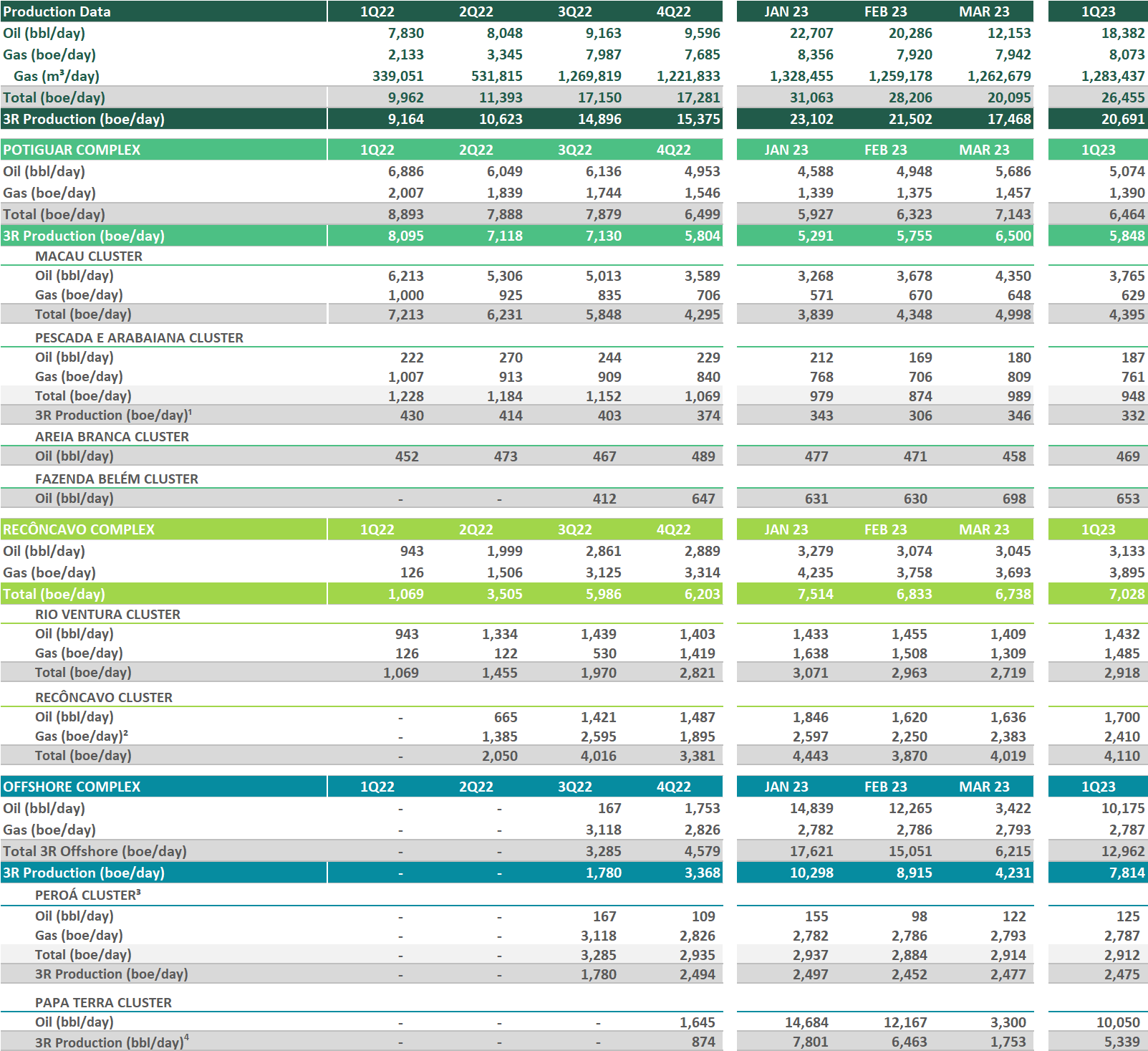 (1) Refers to the 35% Interest held by 3R in Pescada Cluster concessions.
(2) In March, approximately 55% of the gas produced at the Recôncavo Cluster was reinjected into the reservoirs of its fields.
(3) Refers to the 85% interest held by 3R in the Peroá Cluster (WI of 70% up to Aug/22).
(4) Refers to the 53.13% interest held by 3R in the Papa Terra Cluster. The asset's production in the 4Q22 considers only nine days of operation.
3R is the operator of Macau, Areia Branca, Fazenda Belém, Rio Ventura, Recôncavo, Peroá and Papa Terra Clusters and holds a 35% stake in Pescada Cluster, the latter still operated by Petrobras. The consolidated average daily production of the eight Clusters mentioned above totaled 20,095 barrels of oil equivalent (boe) in March 2023. Of this total, the portion referring to 3R's stake reached an average daily production of 17,468 boe.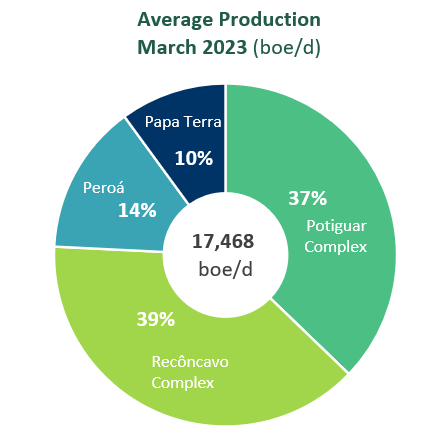 Regarding the operational performance of March 2023, the Company highlights that:
Potiguar Complex: production at the Potiguar Complex recorded growth of 13.0% boe/d compared to the previous month (M/M). The performance is mainly justified by the continuous recovery of the Macau Cluster, +15.0% boe/d M/M, supported by the gradual process of reopening the wells, after the conclusion of the partial replacement of the pipeline that directs the production of CN-B to the Guamaré Industrial Asset (located in the Potiguar Cluster). It should be noted that the asset still operates with limited capacity, impacted by adaptation activities in the oil-water separation plants.
Recôncavo Complex: production at Recôncavo Complex remained stable in the month. The performance is explained by: (i) temporary restrictions on gas demand, and (ii) maintenance of the electrical supply network of certain fields in the Recôncavo Cluster.
3R Offshore: production at 3R Offshore recorded a reduction of 52.5% boe/d M/M. This result is due to: (i) stoppage of production at Papa Terra Cluster as of February 25, 2023, due to limitation in the energy generation and supply systems of the 3R-2 unit (TLWP), as material facts disclosed on February 28, 2023 and March 8, 2023, and (ii) stable gas production at the Peroá Cluster, in line with the demand volume established in the take or pay contract. In March, no offloading operations (transfer of stored oil to shuttle tankers) were carried out at Papa Terra Cluster.
Finally, the Company highlights that production at Papa Terra Cluster was re-established through four wells, with a daily average production close to 17 thousand barrels of oil.