High-impact well numbers in 2023 are expected to be in line with 2020-2022, with 75-85 high-impact wells currently anticipated to complete this year, energy market research and consultancy firm Westwood reports, explaining that this is due to higher oil prices not having fed through into more exploration.
South America is set to continue to be a key region for high-impact exploration, particularly in the Suriname-Guyana Basin and offshore Brazil, while Argentina will see its first ever deepwater well drilled, Westwood's Key Wells to Watch 2023 report writes.
Activity in North America is expected to rebound, following a quiet year when nine high-impact wells were completed. This will include over five high-impact wells in the U.S. Gulf of Mexico, further commitment wells offshore Mexico, and a key frontier basin test in the Orphan Basin offshore Canada.
Furthermore, Africa will see wells in the Orange Basin offshore Namibia, as well as frontier tests offshore Morocco, Gabon, and Mozambique. The Eastern Mediterranean has also seen a recent uptick in high-impact exploration drilling, which will continue into 2023 with around five high-impact wells expected.
High-impact drilling activity in Europe, the Middle East and Asia Pacific is expected to fall slightly this year compared to the previous year, Westwood states.
"The Ukraine conflict and high and volatile oil and gas prices has seen energy politics shift in the short term from the environment and energy transition to a focus on affordability and security. Global explorers, meanwhile, are taking a measured view and holding budgets and activity steady whilst trying to improve overall exploration efficiency," Westwood notes.
In 2022, the industry saw high-impact exploration drilling stable, remaining at a similar level to 2021, with improved performance despite a turbulent year and 81 high-impact wells completed (Figure 2), the report writes.
Performance is reported to have improved with discovered resources increasing from 7.4 bnboe in 2021 to a preliminary estimate of 9.2 bnboe in 2022, and the commercial success rate increasing from 29 per cent in 2021 to 36 per cent.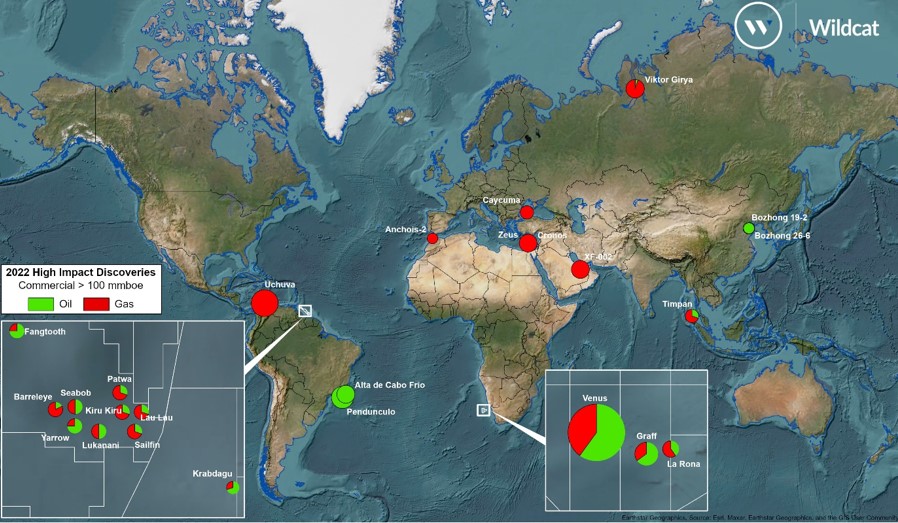 According to the report, discoveries in the Orange Basin off Namibia, at Venus by TotalEnergies and Graff and La Rona by Shell, opened new oil plays with preliminary estimates of potentially more than 3.5 bnboe of discovered oil and gas resources. After Venus, the second largest discovery in 2022 was made at Uchuva in the Guijira Basin offshore Colombia, which discovered 3-5tcf of recoverable gas. Nine potentially commercial discoveries were made in Guyana and one in Suriname, which accounted for around 21 per cent of the total discovered resource.
Frontier exploration drilling activity remained low with 19 frontier wells completed last year, although it delivered a 26 per cent commercial success rate with five potentially play-opening discoveries at Venus and Graff in Namibia, Uchuva in Colombia, Timpan in Indonesia and Anchois-2 in Morocco.
The commercial success rate in emerging plays increased from 28 per cent in 2021 to 46 per cent in 2022, said to be largely due to better performance in Suriname-Guyana as the Stabroek JV focused on drilling in the core of the proven play fairway. Follow-on success in the Cretaceous carbonate play in the Eastern Mediterranean also contributed to emerging play performance with discoveries in Cronos and Zeus off the coast of Cyprus.
The commercial success rate from high-impact drilling in maturing/mature plays decreased from 36 per cent in 2021 to 30 per cent in 2022, with failed attempts to extend the pre-salt play in the Santos and Campos basins, failures in the South Caspian, and no success from the four high impact wells drilled in NW Europe (Figure 3).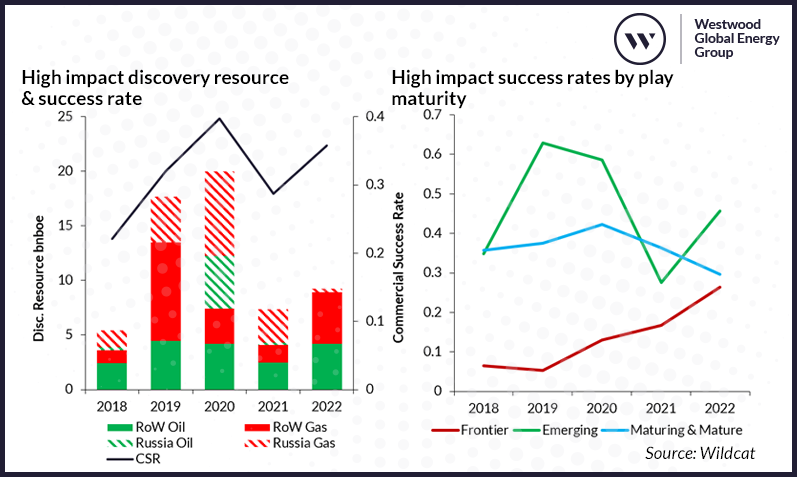 Seventy-six companies participated in the 81 high-impact wells drilled last year, with 46 companies participating in only a single well. The most active high-impact explorers were CNOOC, ExxonMobil and Hess, the three partners in the Stabroek license offshore Guyana. Giants TotalEnergies and Shell rank in fourth and fifth place, followed by Qatar Energy (Figure 4).
Westwood in December outlined that 2022 will have the highest floating production system (FPS) throughput capacity sanctioned since 2010, despite major project delays caused by multiple factors, including the supply chain inflationary pressure, which remains a concern in the future as well.
The energy market research and consultancy firm revealed that some exploration and production (E&P) companies have been "bold with investments" in the development of oil and gas reserves, with a total of 1.9 mmboepd – 1.3 mmbpd of oil and 3.8 bcfd of gas – FPS throughput capacity sanctioned year to date (YTD).