Norwegian oil and gas company Equinor has submitted declarations of commerciality and plans of development for two fields in the BM-C-33 concession in the Campos Basin, offshore Brazil
Equinor is the operator of the BM-C-33 offshore concession with a 35% stake, with its partners being Repsol Sinopec Brasil (35%) and Petrobras (30%).
The concession is located approximately 200 kilometers from Rio de Janeiro, in water depths up to 2900 meters. It contains natural gas and oil/condensate recoverable volumes of above one billion barrels of oil equivalent.
The proposed names for the fields are Raia Manta and Raia Pintada.
The selected concept comprises one floating production storage and offloading unit (FPSO) capable of processing gas and oil/condensate to meet sales specifications without further onshore processing. The FPSO will have a production capacity of 16 million cubic meters of gas per day with expected average exports of 14 million cubic meters of gas per day.
"Raia Manta and Raia Pintada are significant natural gas fields that will play a key role in the ongoing advancement of the Brazilian gas market.," Equinor siad.
Together, the development and operation of the fields have the potential to generate up to 50,000 local jobs during its full life cycle, through various contracts in the supply chain. The total investment is approximately USD 9 billion.
"The fields have the potential to meet 15% of the total Brazilian gas demand when in production. This will contribute to Brazil's energy security and economic development, enabling significant new job opportunities at local level," says Veronica Coelho, Equinor's Country Manager in Brazil.
The development of Raia Manta and Raia Pintada will be the first project in Brazil to treat gas offshore and be connected to the national grid without further onshore processing. The sales gas is planned to be exported through a 200 kilometers offshore gas pipeline from the FPSO to Cabiúnas, in the city of Macaé, in the state of Rio de Janeiro. Liquids are planned to be offloaded by shuttle tankers.
The lifetime average CO2 intensity for the fields is estimated to be below 6 kilograms per barrel of oil equivalent.
"The low carbon intensity is enabled through combined cycle gas turbines on the FPSO, which combines a gas turbine with a steam turbine to take advantage of the excess heat that would otherwise be lost," Equinor explained
Repsol Sinopec discovered the two offshore fields in 2010, and Equinor became the operator in 2016. Production start-up is expected in 2028.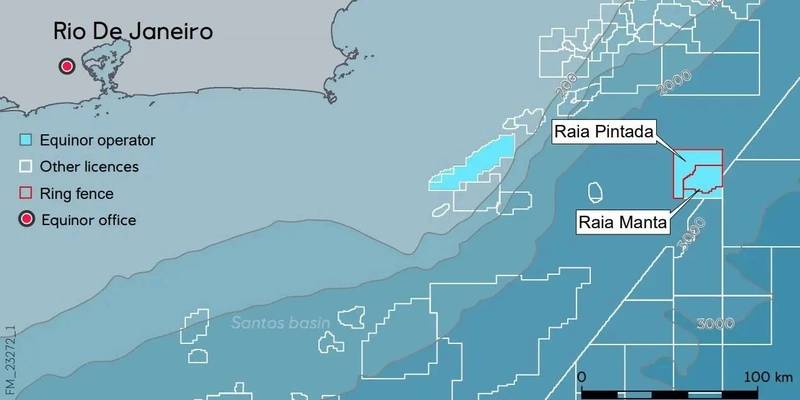 Credit: Equinor