3R PETROLEUM ÓLEO E GÁS S.A. ("3R" or "Company") (B3: RRRP3) informs its investors and the market in general regarding the release of the Reserves Certification Report, base date of December 31, 2022, ("Certification 2023"), prepared by independent expert consultancy DeGolyer and MacNaughton, referring to the assets that form its portfolio.
The Company highlights that the Certification 2023 presents the assets grouped by basin, namely: (i) Potiguar, comprising the Macau, Areia Branca, Fazenda Belém, Pescada and Potiguar Clusters, (ii) Recôncavo, comprising the Rio Ventura and Recôncavo Clusters, (iii) Campos, comprising the Papa Terra Cluster, and (iv) Espírito Santo, comprising the Peroá Cluster. It should also be noted that the Peroá and Papa Terra Clusters were evaluated under the stake held by the subsidiary 3R Offshore(1).
The table below summarizes the main results of the Certification 2023, considering the Company's net interest in those assets.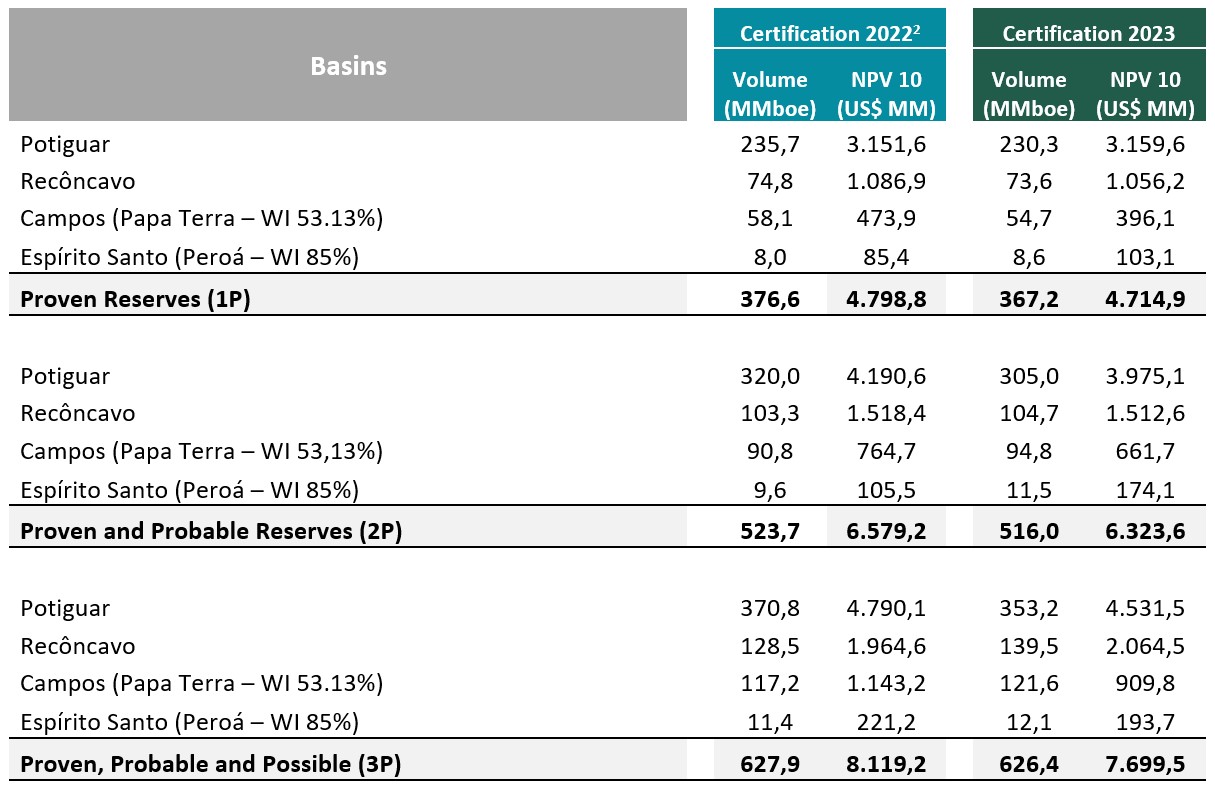 (1)The Company holds an 85% stake in 3R Offshore, a subsidiary that owns 100% of the rights of Peroá Cluster and 62.5% of Papa Terra Cluster. Consequently, the Company's working interest in those assets is 85% and 53.13%, respectively. (2) It considers the Company's working interest in the Reserves Certifications Reports base date 2021, being those of the Areia Branca (base date 2020) and Peroá (base date February 2021). Additionally, the Malombe Project was not considered in the Peroá Cluster data.
Company's Portfolio
Considering the consolidated portfolio, 3R now has 516.0 million barrels of oil equivalent of proven plus probable reserves (2P), of which 367.2 million barrels (or 71%) are proven reserves (1P) and 32 % of 2P reserves are classified as proved developed producing reserves (PDP). Of the total 2P reserves, 12% represent natural gas reserves. Additionally, the Company highlights that the certified volumes related to Malombe, which is part of Peroá Cluster, were classified as contingent resources (12 MMboe of 2C), only conditioned to the declaration of commerciality of the asset before the ANP.
The net present value calculated at the discount rate of 10% per year (NPV @10%) estimated for the portfolio is US$ 4.71 billion and US$ 6.32 billion for the 1P and 2P reserves, respectively.
2P Reserves (MMboe)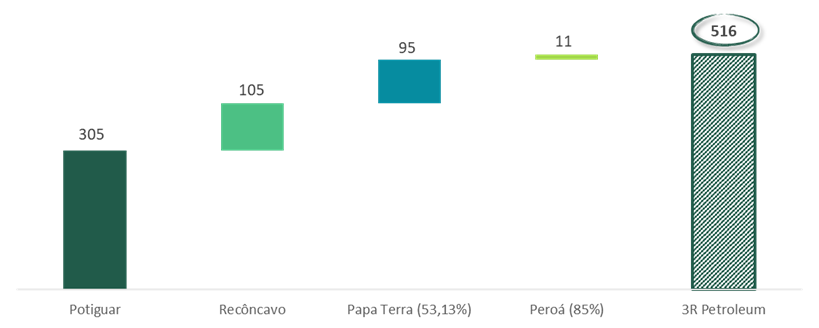 The Reserves Certification Report, as well as the supporting materials, are available on the Company's investor relations website, http://ri.3rpetroleum.com.br.