3R PETROLEUM ÓLEO E GÁS S.A. ("3R" or "Company") (B3:RRRP3), in accordance with the provisions of CVM Resolution No. 44, informs its investors and the market in general that, at a Board of Directors Meeting held on September 8, 2022, was approved the acquisition of shares representing 15% of the capital of 3R Petroleum Offshore S.A. ("3R Offshore"), held by DBO 2.0 S.A. ("DBO").
The acquisition will be carried out based on a clause provided in the Shareholders' Agreement, settled between the parties on May 6, 2021, and amended on August 2, 2022, which provides that the Company would have the right to acquire 15% of 3R Offshore through the payment of R$ 12 million ("purchase right"), if certain conditions were implemented, the main one being the acquisition of a 62.5% interest in Papa-Terra Cluster by 3R Offshore. Thus, with the progress of the transition process of this asset with Petrobras, 3R decided to exercise its purchase right and will now hold 85% of the capital of 3R Offshore, with the complementary portion of 15% belonging to DBO. In an asset perspective, the Company will hold 85% of the Peroá Cluster and 53.13% of the Papa Terra Cluster.
The transaction is in line with the Company's strategy and strengthens its portfolio by expanding its stake in 3R Offshore's assets, increasing its production scale and certified reserves. The Company's consolidated portfolio now has approximately 534 million barrels of oil equivalent ("boe") in 2P (proved + probable) reserves, of which 72% or 384 million boe are 1P (proved) reserves.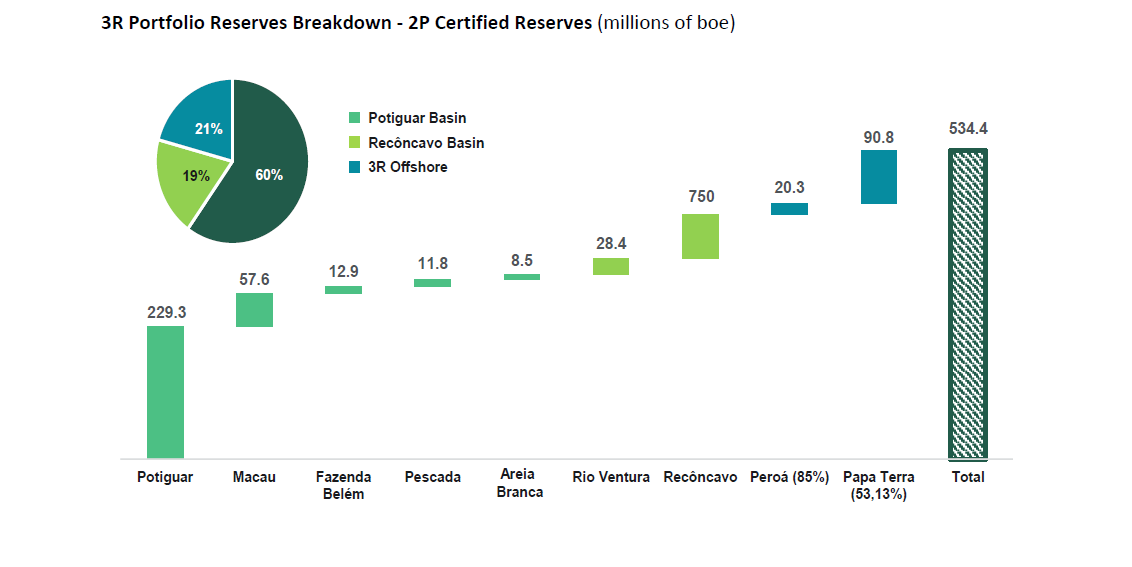 Finally, 3R reinforces its commitment to keep its shareholders, investors, and the market in general duly informed, in line with the best corporate governance practices and in strict compliance with current legislation.