3R PETROLEUM ÓLEO E GÁS S.A. ("3R" or "Company") (B3:RRRP3) informs its investors and the market in general that on August 5, 2022, the National Agency of Petroleum, Natural Gas and Biofuels ("ANP") approved the transfer of concession contracts for two onshore production fields that form the Fazenda Belém Cluster, owned by Petróleo Brasileiro S.A. ("Petrobras") to 3R Fazenda Belém S.A. ("3R Fazenda Belém"), wholly owned subsidiary of the Company.
Considering the above, 3R Fazenda Belém concluded the acquisition of the Cluster and will take over the operation of the asset as of August 6, 2022. The total value of the transaction is US$ 35.2 million, of which (i) US$ 8 .8 million (R$ 48.0 million) paid at the signing of the agreement in August 2020, (ii) US$ 4.6 million (R$ 24.3 million) paid on this date, already discounting the accumulated cash generation since April 2019 (effective date of the contract), and (iii) US$ 10.0 million, payable twelve months after the closing of the transaction.
About the Fazenda Belém Cluster
Located in the Potiguar Basin, in the State of Ceará, the Fazenda Belém Cluster comprises the onshore fields of Fazenda Belém and Icapuí. The asset's average daily production in 2021 was approximately 677 barrels of oil. Its reserve certification, updated by Gaffney Cline with a base date of December 2021, indicates a volume of proved plus probable reserves (2P) of 12.6 million barrels of oil, of which 55% are classified as 1P.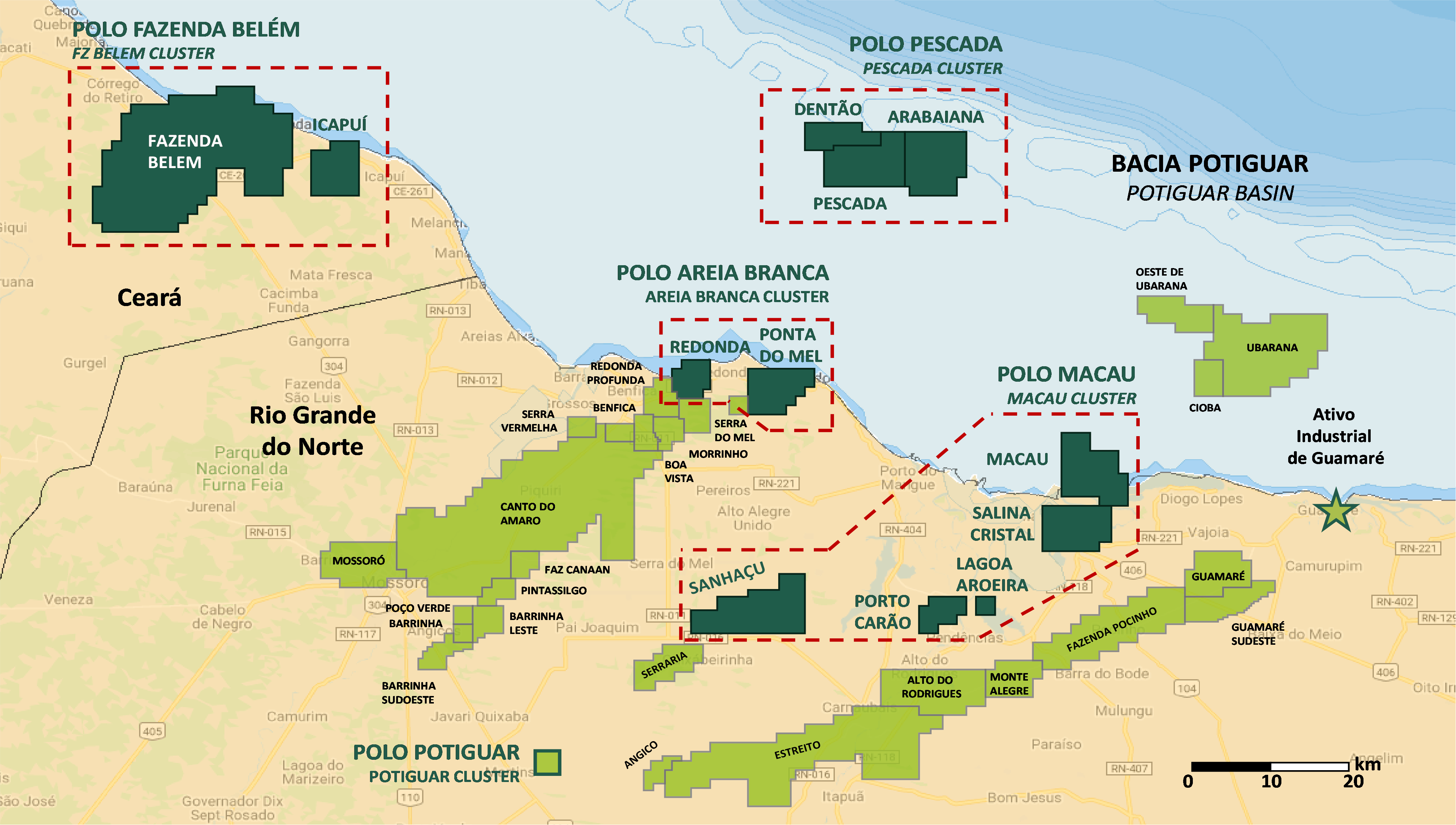 The acquisition of the Fazenda Belém Cluster marks the Company's entry into the state of Ceará, the fourth state with 3R operations, after Bahia, Espírito Santo and Rio Grande do Norte. As shown in the map above, Fazenda Belém Cluster is part of the large Potiguar Complex and becomes the sixth asset in the portfolio that the Company operates. In this way, the asset will benefit from the synergies generated by the integrated operation of all the clusters in the region.
Finally, 3R reinforces its commitment to keep its shareholders, investors, and the market in general duly informed, in line with the best corporate governance practices and in strict compliance with current legislation.