Petro Rio S.A. ("Company" or "PRIO") (B3: PRIO3), in addition to the Material Fact of April 28, 2022, informs shareholders and the market in general that it has received the waiver of the preemptive rights from Repsol Sinopec Brasil ("RSB") in the Albacora Leste Field ("Albacora Leste" or "Field").
The closing of the deal is still subject to the approval of the Brazilian antitrust entity (CADE), the request for which was filed on May 27, and approval by the National Agency of Petroleum, Natural Gas and Biofuels ("ANP").
Lastly, the Company informs that it published the Field's reserves certification report, prepared by DeGolyer & MacNaughton ("D&M"), dated October 1, 2022. The charts below present the Company's reserves, including from now on the 90% interest held by the Company in the Field.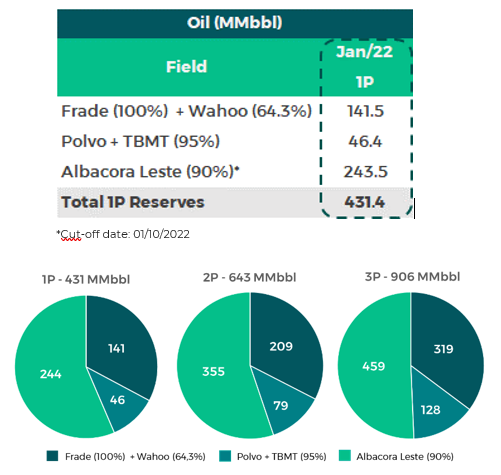 Access the full report at: http://ri.prio3.com.br/servicos-aos-investidores/relatorios-de-certificacao/