3R PETROLEUM ÓLEO E GÁS S.A. ("3R" or "Company") informs its shareholders, investors and the market in general that, on May 10, 2022, the National Petroleum, Natural Gas and Biofuel Agency ("ANP") approved the transfer of the concession agreements of 14 onshore production fields that form the Recôncavo Cluster ("Recôncavo Cluster"), owned by Petróleo Brasileiro S.A. ("Petrobras") to 3R Candeias S.A. ("3R Candeias"), a wholly-owned subsidiary of the Company.
3R Candeias completed the acquisition of Recôncavo Cluster and, therefore, assumes the operation of the fields as of May 11, 2022. The total value of the transaction was US$ 256 million, duly adjusted in accordance with the agreement established by the parties, of which US$ 10 million (R$ 51 million) was paid to Petrobras on the date of execution of the contract, on December 17, 2020; and US$ 246 million (R$ 1,250 million) paid on the present date.
About Recôncavo Cluster
Located in the Recôncavo Basin, in the State of Bahia, the Recôncavo Cluster comprises 14 onshore fields, namely: Aratu, Ilha de Bimbarra, Mapele, Massuí, Candeias, Cexis, Socorro, Dom João, Dom João Mar, Pariri, Socorro Extension, São Domingos, Cambacica¹ and Guanambi¹. The Asset's average daily production in 2021 was approximately 4,811 barrels of oil equivalent ("boe"), of which 2,932 barrels of oil and 466 thousand m³ of natural gas.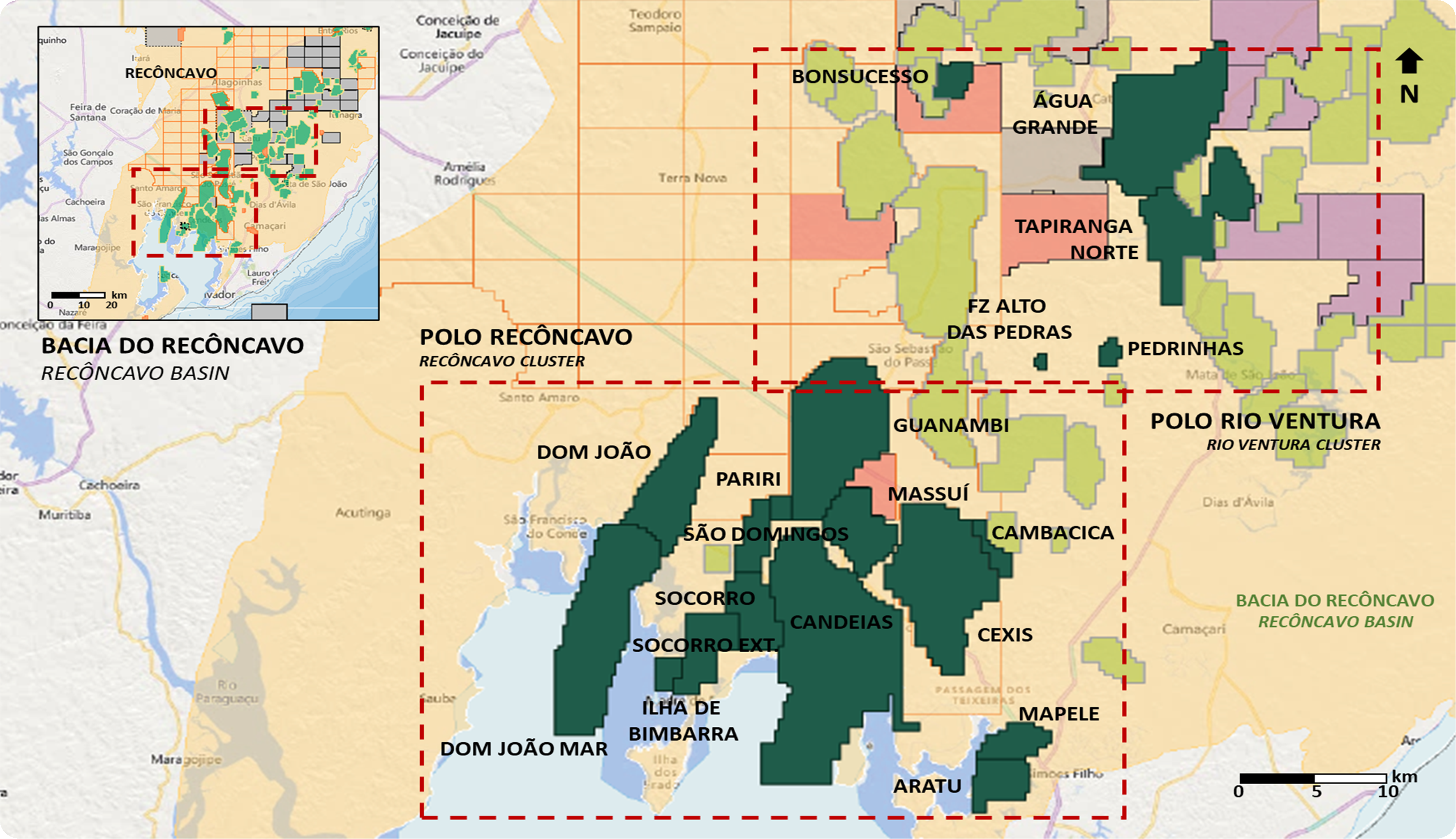 (1) Sonangol Hidrocarbonetos Brasil Ltda. holds a 25% interest in the Cambacica concession and Sonangol Guanambi Exploração e Produção de Petróleo Ltda. holds a 20% interest in the Guanambi concession. The 2021 daily average production of these working interests corresponds to 22 boe.
The reserves report for the Recôncavo Cluster, updated by DeGolyer and MacNaughton with a base date of December 2021, indicates a volume of proved plus probable (2P) reserves of 75.0 million barrels of oil equivalent, of which 78% are classified as proved (1P). Of the total 2P reserves, 82% are oil and 18% natural gas.
The acquisition reinforces 3R's position in the State of Bahia, by forming an integrated Complex with the Recôncavo and Rio Ventura Clusters. In this way, the Company takes another step towards solidifying its investment thesis: assets operated in an integrated manner, focused on capturing operational and commercial synergies through the optimization of teams, the chain of suppliers and service providers and through the increase in scale of the products sold.
Finally, 3R reinforces its commitment to keep its shareholders, investors and the market in general duly informed, in line with the best corporate governance practices and in strict compliance with current legislation.