3R PETROLEUM ÓLEO E GÁS S.A. ("3R" or "Company"), following best practices in corporate governance and transparency, informs its investors and the market in general the preliminary unaudited production data for March 2022 in the assets that the Company holds participation.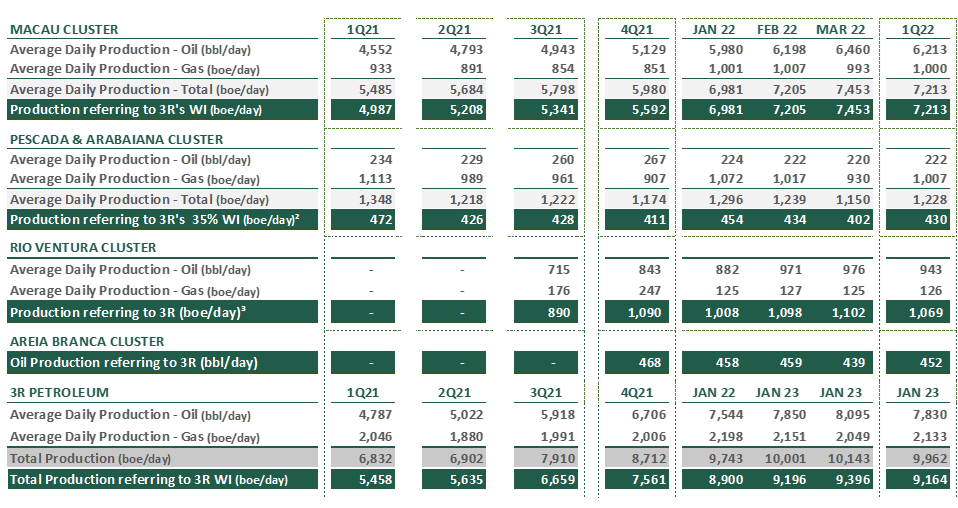 (1) Refers to 3R's stake in all Polo Macau concessions. On December 21, 2021, the Company completed the acquisition of 50% of Sanhaçu field, which was owned by Galp. As of this date, the concession rights for Campo de Sanhaçu are fully owned by 3R.
(2) Refers to the 35% interest held by 3R in Pescada Cluster concessions.
(3) 3R took over the operation of Rio Ventura Cluster on July 15, 2021. The historic production of the third and fourth quarters of 2021 was corrected to reflect the sharing of a reservoir located between the Bonsucesso concession, that belongs to the Rio Ventura Cluster, and Gomo concession, that belongs to the Remanso Cluster.
(4) After the acquisition of Duna Energia, 3R renamed as Areia Branca Cluster the production from Ponta do Mel and Redonda fields. 3R took over the operation of Areia Branca Cluster on November 1, 2021. The average production for 4Q21 was calculated considering the two months of the Company's operations.
The Company is the operator of Macau, Areia Branca and Rio Ventura Clusters and holds a 35% stake in Pescada Cluster, the latter operated by Petrobras. The consolidated average daily production of the four clusters mentioned above totaled 10,143 barrels of oil equivalent (boe) in March 2022. Of this total, the portion referring to 3R's stake reached an average daily production of 9,396 barrels of oil equivalent.
The production data referring to: (i) 100% of the Fazenda Belém Cluster, (ii) 100% of the Recôncavo Cluster, (iii) 100% of the Potiguar Cluster, (iv) 70% of Peroá Cluster and (iv) 43,75% of Papa-Terra Cluster will be incorporated into this report as soon as the transition processes with Petrobras are concluded and approved by the ANP.
Macau Cluster – Average daily oil production (bbl/day)
Rio Ventura Cluster – Average daily oil production (bbl/day)

3R Petroleum – Average daily oil production (bbl/day)