Offshore drilling company Noble Corp. said Tuesday it had won a contract with TotalEnergies, to redeploy the harsh-environment jackup rig Noble Regina Allen for the drilling of three horizontal wells at the Fénix project in southern Argentina.
TotalEnergies subsidiary, Total Austral, awarded the contract to Noble Drilling.
The contract is expected to start in the first half of 2024, and has a duration of around 220 days.
The estimated contract value is approximately $33 million, excluding mobilization and demobilization fees. The contract further contains four one-well options.
"We are very pleased to confirm that the Noble Regina Allen will be brought back into the market for this important Argentinian natural gas project. We are looking forward to deepening our relationship with TotalEnergies with renewed collaboration in a South American basin," says Blake Denton, SVP of Marketing & Contracts.
The Noble Regina Allen is currently undergoing repair work in Rotterdam, the Netherlands.
Reuters reported last week, citing Catherine Remy, Managing Director of Total Austral, that TotalEnergies will start drilling at the Fenix field off the southern Argentine province of Tierra del Fuego in March 2024, and expects to start production the following November.
TotalEnergies had said in September 2022 that it had taken the final investment decision to start work on the Fenix project.
At the time, it was said that the gas from the Fenix field would be transported through a 35km pipeline to the TotalEnergies-operated Véga Pleyade platform and treated onshore at the Rio Cullen and Cañadon Alfa plants, also operated by the company. At production start-up, Fenix will produce 10 million cubic meters per day of natural gas (70,000 barrels of oil equivalent per day).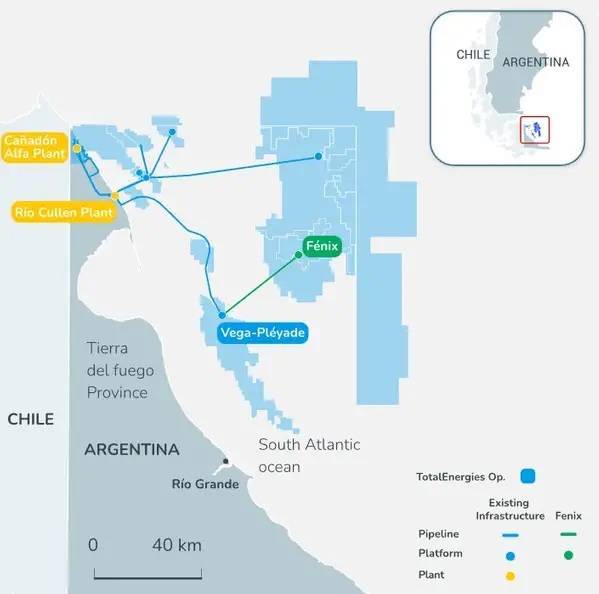 Credit: TotalEnergies (File image)