(OE) After a slowdown in activity during 2020/2021 due to soft commodity prices, demand for FPSOs is picking up.
---
With exploration hotspots like Namibia's Orange Basin and the East Mediterranean delivering new finds, the FPSO market outlook is healthy. But shipyard capacity constraints are beginning to weigh on delivery, leading to cost concerns. Furthermore, FPSO demand is competing for yard space with other construction projects.
To mitigate delay risk and cost overruns, some E&Ps have reviewed their FPSO procurement strategies. The Build Operate and Transfer (BOT) model and use of standardized hull designs are becoming more popular.
Strong Demand But Capacity Constraint Headwinds
We expect 35 FPSO projects with an estimated contract value exceeding US$50 billion to get the green light by 2030. At least a third will be new builds, and nearly half earmarked for Brazil and Guyana. The next hotspot could be Namibia, where TotalEnergies and Shell's exploration success could yield multi-FPSO development programs. The yards in China are the go-to for new-build FPSO hulls and conversion work, but capacity is strained.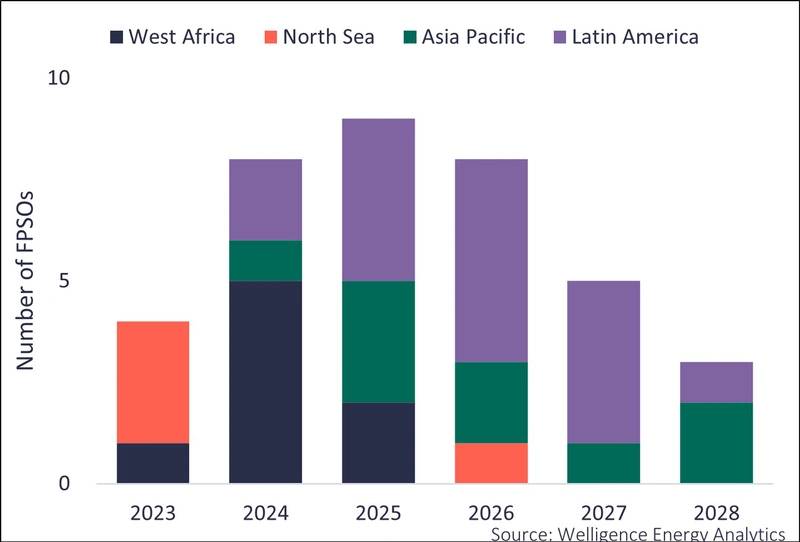 FPSO demand forecast (by region): Demand is based on FPSO contract award year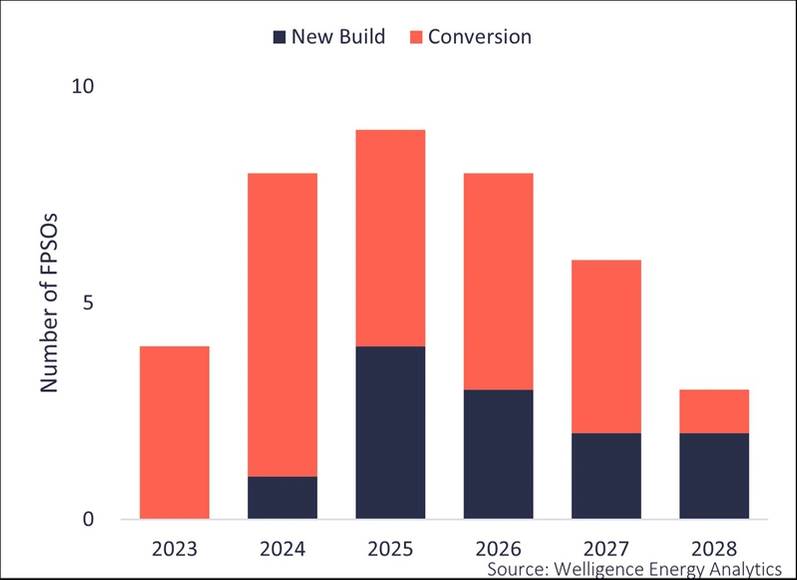 Title FPSO demand forecast (by region): Demand is based on FPSO contract award year
Although new FPSO demand will not be as overheated as in 2014/2015, hull fabrication is now competing for yard space with other projects like FLNG vessels, floating regasification units and wind turbine installation vessels.

China Dominates FPSO Hull Fabrication Market
Historically, the large drydocks (Samsung, Daewoo, Hyundai) in South Korea built the majority of the large, complex FPSOs. But they have been surpassed by the Chinese yards, which have beaten them on price and delivery time. On the conversion side of the market, Singaporean yards like Semcorp and Keppel dominated, but also now face strong competition from China.
SBM's multi-purpose floater hulls (its Fast4Ward standardized hulls) were built at the Shanghai Waigaoqiao Shipbuilding (SWS) yard
Modec has also launched its own standardized hull (M350 Hull), which is being fabricated for Equinor at the Dalian shipyard in China for the Bacalhau project in Brazil
Cosco Shipping Heavy Industry orders include bp's Greater Tortue Ahmeyim (GTA) FPSO
E&P Procurement Strategies Evolve
The main FPSO contracting models have been turnkey (used for large, new-build FPSOs) or lease contracts (used for VLCC conversions). But the Build Operate and Transfer (BOT) model is becoming more popular, as is the use of standardized hull solutions.
The BOT model: Under this approach, the FPSO is owned and operated by the FPSO contractor for a period before being acquired by the operator. The incentive is on the contractor to deliver on time and budget. ExxonMobil used it with the Liza Unity FPSO in Guyana.
Standardized hull: ExxonMobil and Petrobras have been early adopters of SBM's Fast4ward standardized new-build hull solution, which offers shorter delivery times. The Liza Unity FPSO was operational in less than 36 months from FID. This lead time is more consistent with that associated with VLCC conversions than new builds. Welligence considers TotalEnergies and Shell to be strong candidates for this approach in the event their Namibia finds require multiple FPSOs.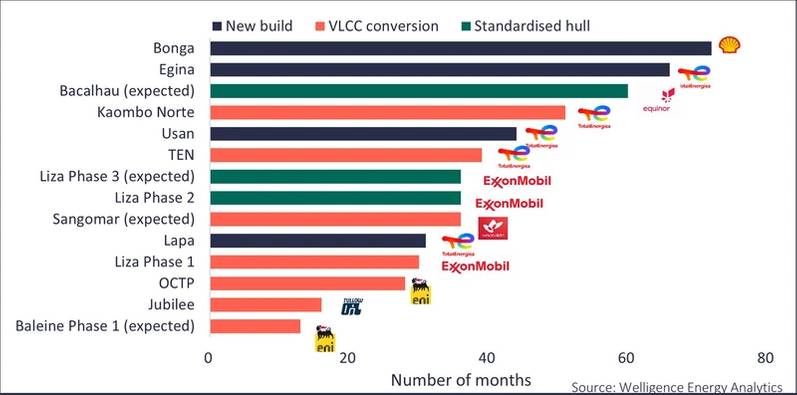 Lead time for FPSO projects operated by selected IOCs (FID to first oil)
Redeployment: There is still appetite for re-using existing FPSOs, bringing obvious cost and delivery benefits – this approach is attractive for use in early production systems.Eni is to deploy an existing FPSO at Phase 1 of its Baleine development in Cote D'Ivoire, and it may also redeploy a cylindrical FPSO (a first in Sub-Saharan Africa) for Phase 2. Equinor has earmarked the Petrojarl Knarr for its long-delayed Rosebank development in the UK North Sea, and Aker Energy has identified the Ocean Yield-owned Dhirubhai 1 FPSO for Pecan in Ghana.
Reducing emissions: This is a priority – emissions associated with production and processing on FPSOs account for around 60% of the total. Cutting gas consumption for new FPSOs is a key reduction lever, and contractors are working closely with operators to explore technologies to improve efficiencies.
Equinor's Bacalhau FPSO will use combined cycle turbines, and more operators will likely go down this path. Aker Carbon Capture is developing an FPSO carbon capture solution, and it's reported this technology will be deployed on two Petrobras FPSOs. However, there is a cost – we estimate the combined cycle gas turbine will increase the topside costs by 20-30%.