(OET) Challenger Energy Group, the Isle of Man-headquartered oil and gas company focused on the Caribbean and Americas, has started a farm-out process for a shallow water exploration block located offshore Uruguay, which has already attracted attention from several oil companies.
Challenger Energy was awarded the AREA OFF-1 block in May 2020 by Uruguay's state-owned oil and gas company ANCAP. This licence area, and the broader offshore Uruguay play system, are analogous to offshore Namibia, where there have been recent prolific, conjugate margin discoveries made by TotalEnergies (Venus-1 oil discovery) and Shell (Graff-1 oil discovery), and where reported multi-billion-barrel Cretaceous turbidite reservoirs have been encountered.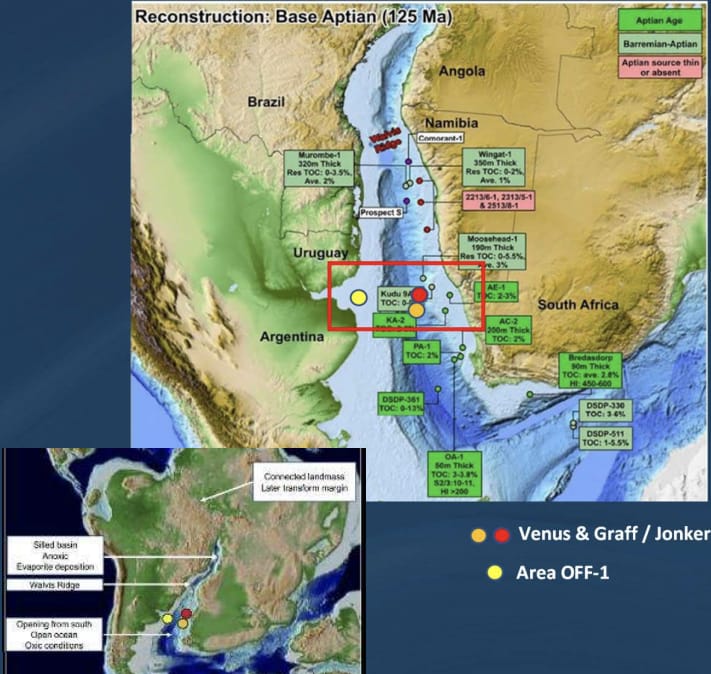 The company previously explained that the OFF-1 licence exhibits the same Aptian age play source rock and petroleum systems on existing 2D seismic. At the time, the OFF-1 block was said to contain a management estimated resource potential exceeding 1.5 billion barrels of oil equivalent (BBOE), as corroborated by formal resource estimates provided by ANCAP of 1.35 BBOE, as a P50 expected ultimate recoverable resource.
Furthermore, a volumetric assessment of the three primary prospects identified on the AREA OFF-1 block – Teru Teru, Anapero, and Lenteja – has now been completed, indicating a total oil in place (OIP) of about 6.5 billion barrels of oil equivalent across all three prospects, and over 16 BBOE in an upside case along with a total estimated ultimate recoverable resource (EUR) of around 2.0 billion BBOE across all three prospects, and over 4.9 BBOE in an upside case.
Challenger's internal estimates of the economic field size for discovery in these water and reservoir depths are in the range of 150 to 200 million barrels while the EUR (P50) for all three primary prospects exceeds or approximates this commercial threshold.

Moreover, the firm has continued with various technical workstreams to complete prospect mapping, finalise the prospect and lead inventory, and expand amplitude variation vs. offset (AVO) analysis from initially 6 reprocessed 2D seismic lines to 15, driven by the strong results from the initial AVO work conducted.
Whilst this work remains to be completed, AVO analysis shows strong Class II/Class III AVO anomalies are present on multiple seismic lines for the Teru Teru and Anapero prospects, which serves to confirm the areal extent of both prospects. The ongoing technical work has also identified further leads and prospects on AREA OFF-1.
While interpretation and mapping of these additional leads and prospects are still underway, it is anticipated that once work is complete, these newly identified leads and prospects may add further to the overall AREA OFF-1 resource and prospect inventory.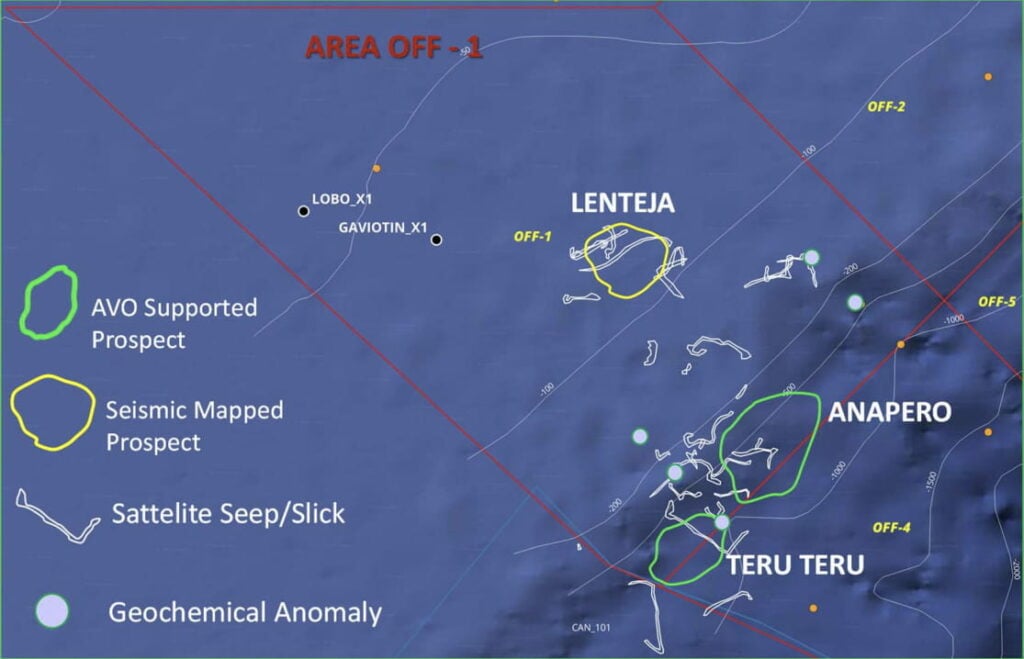 After compiling a comprehensive data room, which includes all new work conducted inclusive of the recently completed volumetric assessment, Challenger confirms that a formal adviser-led farm-out process has now begun, with the firm receiving several unsolicited approaches, and "strong interest" from industry participants.
The company underlines that this farm-out process has been structured to meet its commercial objective, which is to complete a farm-out transaction prior to the end of 2023. Challenger believes that introducing a strategic partner or partners during 2023 will enable it to accelerate value realisation from the AREA OFF-1 licence, by fast-tracking 3D seismic acquisition, potentially via a multi-client acquisition in early 2024.
Eytan Uliel, Chief Executive Officer of Challenger Energy, remarked: "We continue to be encouraged by the opportunity that our AREA OFF-1 licence in Uruguay represents. Our technical work highlights how AREA OFF-1 is clearly world-class acreage with massive resource potential, in what has become a global exploration hotspot.
"To capitalise on this, I can confirm that a farm-out process has now commenced, with very strong initial indications of interest received from multiple major oil companies. Our target is to complete a farm-out transaction by year-end so that we can continue to rapidly progress work on the block, and thereby generate value for shareholders."
Other oil and gas players showed their interest in Uruguay's offshore acreage during the second instance of the 2022 Open Bidding Round. As a result, ANCAP awarded two offshore blocks in January 2023 to three companies, enabling YPF and the consortium consisting of UK-headquartered Shell and the U.S.-based APA Corporation to expand their footprint off Uruguay.