(OE) The offshore substation and jacket foundation, bound for the U.S. offshore wind project Vineyard Wind 1, have left the quay at Bladt Industries' production site in Southern Denmark, heading for its destination 35 miles from mainland Massachusetts.
Sail-away is on time according to the original schedule and is a major milestone for the project team from Bladt Industries, Semco Maritime, and ISC Consulting Engineers.
Vineyard Wind 1 is carried out as an EPC contract, with ISC as a subcontractor, covering the design, procurement, and construction of the 3,200 tons offshore substation and a 2,000 tons jacket foundation with four piles, which form the permanent anchorage to the seabed.
Klaus Munck Rasmussen, Chief Project Officer, Bladt Industries, said: "We are immensely proud to be a part of Vineyard Wind 1, which will always carry a special status being the first commercial-scale offshore wind farm in the US. Many years ago, we were a part of the first offshore wind projects in Denmark when the industry evolved here, and it feels great adding a new chapter to our story with our involvement in the first US project."
Steen Brødbæk, CEO, Semco Maritime: "We have had a very constructive collaboration with the client, Vineyard Wind LLC, and it has been a rewarding process to draw on our many years of experience and well-tested setup for the execution of this project, resulting in a safe handover to the client."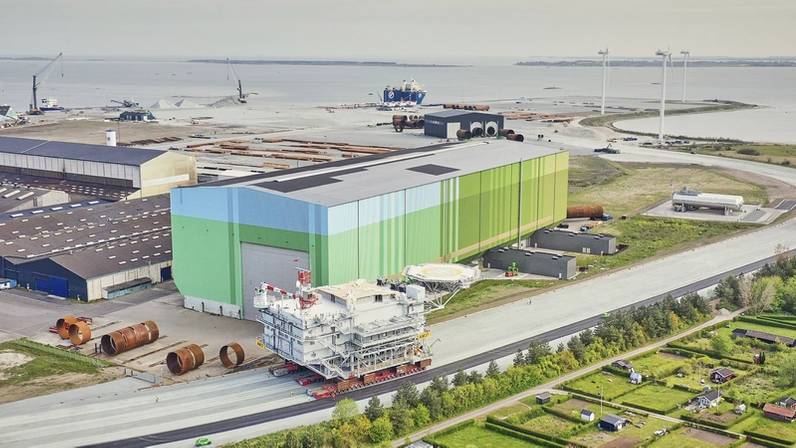 ©Semco Maritime
Bladt has handled the steel manufacturing of the substation. Design and engineering were carried out by Semco Maritime and ISC, and installation of the electrical system was also carried out by Semco Maritime.
"Bladt Industries and Semco Maritime have been targeting the US market for quite some time and have succeeded in winning 7 of the 11 offshore substations that have been awarded to date in US waters," Semco Maritime said in a statement on Thursday.
"Being the first of its kind, Vineyard Wind 1 has gained a lot of public attention since the very early stages, partly because of the environmental perspectives regarding the reduction of carbon emissions and the prospect of powering over 400,000 Massachusetts homes and partly due to the derived economic effects from the wind farm that is expected to boost the offshore wind industry in Massachusetts with local job creation," Semco Maritime said.
"Moving a 3200-ton object is not something that we experience every day, so we have been excited to follow both load out and sail away from our side of the Atlantic. We have felt in very safe hands with Bladt Industries and Semco Maritime throughout the whole process. With the components on their way, we look forward to welcoming the barge here in Massachusetts, says Klaus S. Moeller, CEO of Vineyard Wind.
After arrival at the installation site, Vineyard Wind LLC will perform installation of the substation, after which Semco Maritime and Bladt Industries will take over and begin work on the offshore commissioning during the summer.
The Vineyard Wind 1 offshore wind farm is being built by Vineyard Wind LLC, an offshore wind development company 50 percent owned by funds of Copenhagen Infrastructure Partners (CIP) and 50 percent owned by Avangrid Renewables, LLC.
Vineyard Wind 1 is the first commercial-scale offshore wind energy project in the United States. Vineyard Wind 1 will consist of an array of 62 wind turbines, which will generate 800 MW of electricity annually and power over 400,000 homes and businesses, while reducing carbon emissions by over 1.6 million tons per year. Vineyard Wind 1 will deliver the first power to the grid in 2023.