Barry Parker, Contributor
(OE) The path to decarbonization is defined by partnership and fueled by government funding. This month we examine the players, partnerships, and evolution of Hydrogen Hubs in the Gulf of Mexico.
The Green Shipping Challenge, organized by the United States and Norway at COP 27 held in late 2022, brought about dozens of announcements on maritime decarbonization. Among these was a joint statement from the Blue Sky Maritime Coalition (BSMC) – a consortium of North American shipowners and ancillary service providers – and the American Bureau of Shipping (ABS) announcing an effort to create a corridor for the Gulf of Mexico and Lower Mississippi River region, joined by port authorities and stakeholder organizations from Houston and New Orleans in this initiative.
There are multiple definitions of what, exactly, constitutes a 'Green Shipping Corridor,' as dozens of initiatives have been announced since the introduction of the concept at COP 26 in October 2021.
They can be thought of as a port-to-port trade route (with actual port operations having a reduced or zero carbon emission profile), hauling non-fossil fuel commodities produced with a reduced carbon footprint onboard vessels powered by alternative fuels.
The Green Shipping Corridor concept links together with a newly emerging concept – "Hydrogen Hubs" – which will be funded in the wake of the massive $1.2 Trillion Infrastructure Investment and Jobs Act (also known as the Bipartisan Infrastructure Bill) signed in 2021, which authorized spending of $7B on the establishment of regional clean hydrogen hubs.
While the U.S. Department of Energy (DOE) expects to fund up to 10 such hubs through its H2Hubs program, 79 proposals were received to DOE's initial request for concept papers. Of these, 33 received a "thumbs up," encouraging them to submit more extensive proposals (due in April, 2023) for funding.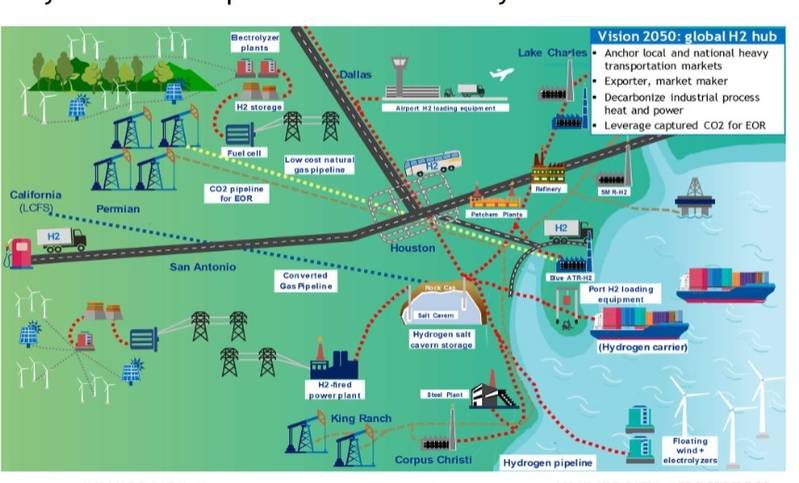 Image courtesy Center for Houston's Future
The corridors and hubs fit nicely together in the U.S. Gulf, which is known in the crude oil and refined products trades as PADD 3 (Petroleum Administration for Defense District).
Natural Resources Defense Council, the influential advocacy group, in publications examining and promoting the hub concept reminded policy-makers (and infrastructure architects) "…that when targeted at the hard-to-electrify end-uses like steelmaking, marine shipping and aviation, green hydrogen has the strongest potential to support America's transition to a clean economy."
In Green Corridors, a key element is the availability of alternative fuels on a particular trade route; with the U.S. Gulf's key role in hydrogen production, well-known ports in the region were seeking to play a role.
In New Orleans, the H2theFuture consortium (led by the Greater New Orleans Development Foundation, or GNODF) is seeking to "…establish a world-leading clean hydrogen cluster in South Louisiana."
The hub received a $50 million Federal grant in September 2022 from the Build Back Better program. Like the other hubs, the infrastructure includes a wide variety of components. The group envisions the use of offshore wind to power electrolyzers that produce "green" hydrogen, which might be used in the further production of green fuels.
Among the industrial sectors that GNODF expects to see benefits are "coastal and river vessels" as well as "long haul transportation."
If H2theFuture moves ahead, it will be tied to efforts at the Port of South Louisiana, a network of ports on the Lower Mississippi, to provide a fueling station, with a hydrogen fueling barge (dubbed H2P3 ) for an emergent fleet of hydrogen-powered river vessels, which could be built at yards in region.
According to H2theFuture: "The investment leverages the private-sector investment of the Marine Vessel (M/V) Hydrogen One, currently in development by international private partners led by locally-based firm Maritime Partners."
The GNODF adds that: "By providing this new fueling asset for e-methanol-fueled vessels, this component project contributes to the overarching cluster strategy by enabling the maritime sector to initiate a transition towards green hydrogen fuels. The H2P3 project demonstrates the comprehensive, end-to-end value chain of the South Louisiana green hydrogen cluster."
The HyVelocity Hydrogen Hub (HV), a consortium of energy majors and important organizations seeking to "… accelerate the development of clean hydrogen projects in Texas, Southwest Louisiana, and the U.S. Gulf Coast," were among the submitters that received encouragement from the DOE.
The objective is to "…leverage the world's largest concentration of existing hydrogen production assets, infrastructure, and customers in the Gulf Coast region to produce clean hydrogen…"
In an FAQ document on HV's website, they say: "The hub encompasses a variety of projects, including end-use applications, connective infrastructure, pipelines, shipping, and trucked hydrogen delivery."
The view from high up shows this hub to part of clean hydrogen network that will help decarbonize many sectors of the economy, on a national scale.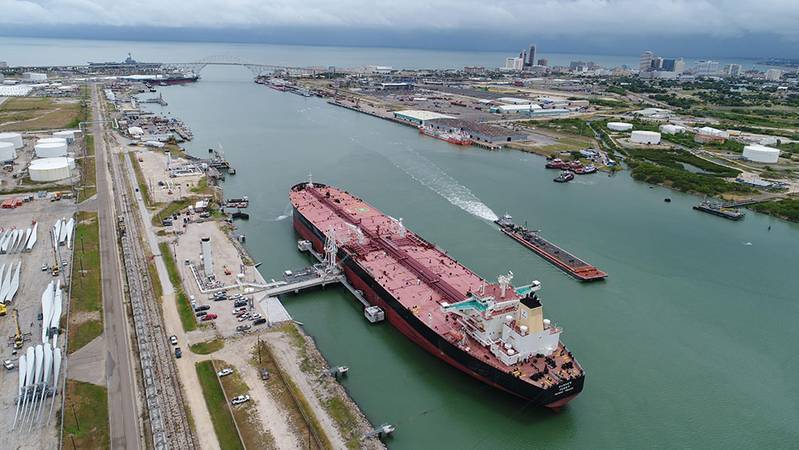 Suezmax docked at Corpus Christi (Image courtesy Port of Corpus Christi)
Corpus Christi, a leading participant in exports of U.S. crude and distillate products, has also set its sights on the hydrogen future. Like the H2theFuture and the HV, it also received of vote of confidence from the US DOE.
The port says: "The HCH2 Concept Paper, submitted to the DOE on November 7, names around 30 private sector team members as owners, developers and/or operators, off-takers, and end users of various hydrogen value chain projects and supporting infrastructure…"
The list of potential collaborators on the infrastructure side includes Buckeye Partners (operators of a large tanker terminal in the port, and numerous other facilities, fed by a pipeline network), Magellan Midstream and Epic Midstream – both major pipeline operators.
Commodity participants, if the port's efforts move ahead, include well-known traders Trafigura and Sempra.
They suggest that: "When it is to be exported from the hub by rail or ship, hydrogen likely will be reacted into ammonia, which is a larger, more stable molecule that can either be used directly as an energy source or processed to yield free hydrogen."
Sean Strawbridge, Port of Corpus Christi's CEO, suggested that methanol (which can also be produced from hydrogen) would also be a potential fuel to be moved from the Hub at Corpus Christi (the leading port for U.S. crude exports).
Strawbridge, who is the current Chair of American Association of Port Authorities (AAPA), provided a broader perspective on decarbonization, and the U.S. abundance of potential hydrogen production available, in the future, for export.
"Texas is the largest producer of wind energy, and the second largest producer of solar power in the nation," he said, adding that "many foreign nations are looking to the United States for the production of green fuels."
The role for Corpus Christi is clear: "Crude oil has made us so prolific as a traditional energy export gateway, we think that leadership will also hold true as we transition to the export of hydrogen and its derivatives."
The maritime sectors will see a push by technology providers as hydrogen is seen as a viable fuel source for vessels (whether tied to methanol fuel production, or through use in fuel cells).
Maritime Partners, the vessel owner involved with New Orleans' potential hydrogen hub, is behind Element 1, an Oregon-based small-scale manufacturer of advanced hydrogen generation systems.
Its e-1 Marine division has been actively marketing a technology where hydrogen fuel cells, which generate electricity similar to batteries, are fed hydrogen produced onboard in a process where water is added to methanol stored in tanks.
Maritime Partners has also invested in ownership of Hydrogen One, a tugboat which will deploy the technology. The boat will be placed on a long-term charter to a leading inland provider of barge transportation. Other efforts, not tied to specific hubs, are now gaining traction.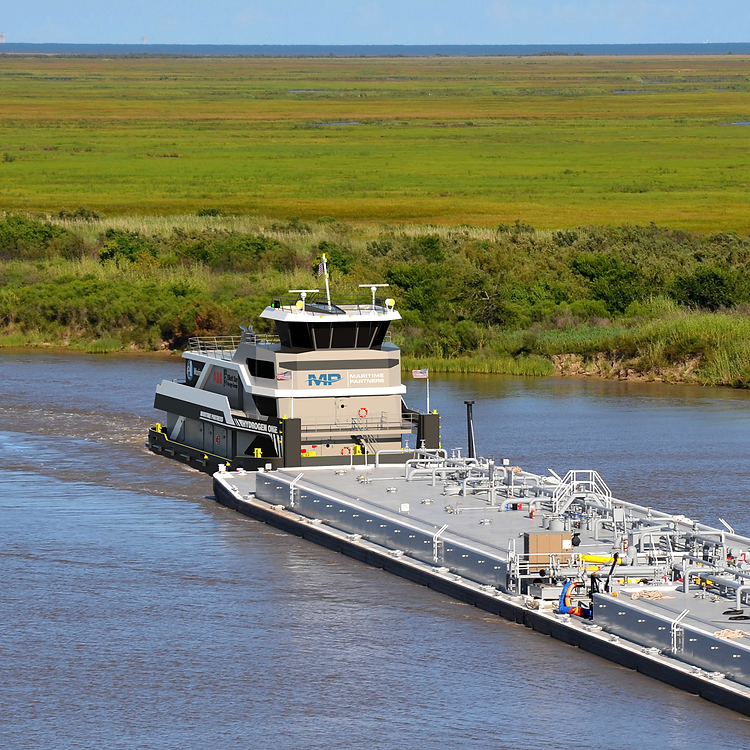 The Hydrogen One vessel. (Image courtesy e1 Marine)
Ammonia power specialists Amogy, a 2020 startup based at the Brooklyn Navy Yard with a presence in Norway, announced a demonstration project where an existing diesel-powered tugboat will be fitted with a mechanism feeding liquid ammonia (stored in fuel tanks) through "cracking modules" which supply hydrogen into a hybrid fuel cell system.
The 1MW-rated powerpack will then provide electricity to motors driving the vessel's propellers. Current plans have the vessel being deployed along the Hudson River. The vessel is being converted at the Feeney Shipyard in Kingston, NY, and will be classed by DNV.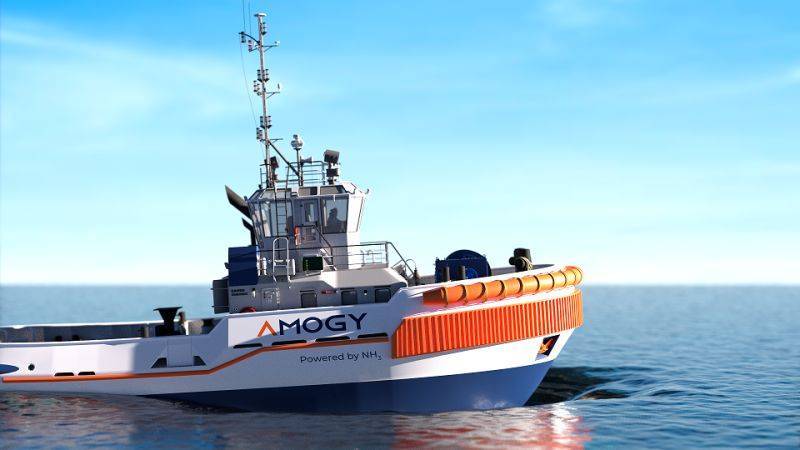 Amogy's ammonia fueled tug. (Image courtesy Amogy)
ABS announced its role in the classification of a Glosten-designed research vessel (to be based in San Diego) that would "feature a new hydrogen-hybrid propulsion system that integrates hydrogen fuel cells alongside a conventional diesel-electric power plant, enabling zero-emission operations."
Christopher J. Wiernicki, ABS Chairman, President and CEO, said, "This project will be closely watched by the industry as it breaks new ground and demonstrates the capabilities of this promising alternative fuel at sea."
Alex Parker, Managing Partner of Rose Cay, which actively invests in real assets for the energy transition, is both an owner and an operator of a fleet of 18 coastwise Jones Act vessels.
The Rose Cay fleet was purchased in 2021, underwent material, technical enhancement, and now transports energy products for Fortune 100 companies, along what could be future Green Shipping Corridors of America.
During a Capital Link conference regarding Jones Act M&A opportunities Parker said, "There is going to be a material Energy Transition, and it is underway. The Inflation Reduction Act together with legislation funding hydrogen hubs, solidified Washington, D.C.'s commitment. The impacts will touch both the commodities being transported and the marine fuels being used."
As an industry, the U.S. Jones Act community is actively preparing for the future of energy transportation, and it is clear Rose Cay intends to be a leader.
Rose Cay Maritime is included in a list of partner entities, in a recent announcement from another group, the Northeast Hydrogen Hub (with 100 partners from seven states in PADD 1A- New England and PADD 1B- mid-Atlantic states).
Parker said, "At Rose Cay Maritime, we are committed to serving our customers and American communities with safe, reliable, and environmentally responsible Jones Act transportation today and tomorrow, as the U.S. energy complex evolves. The hard-working men and women in the Jones Act trade stand at the ready to ensure our country's energy security throughout the Energy Transition."
The entire maritime supply chain will undoubtedly be monitoring the developments as the Green Corridors and Hydrogen Hubs move forward.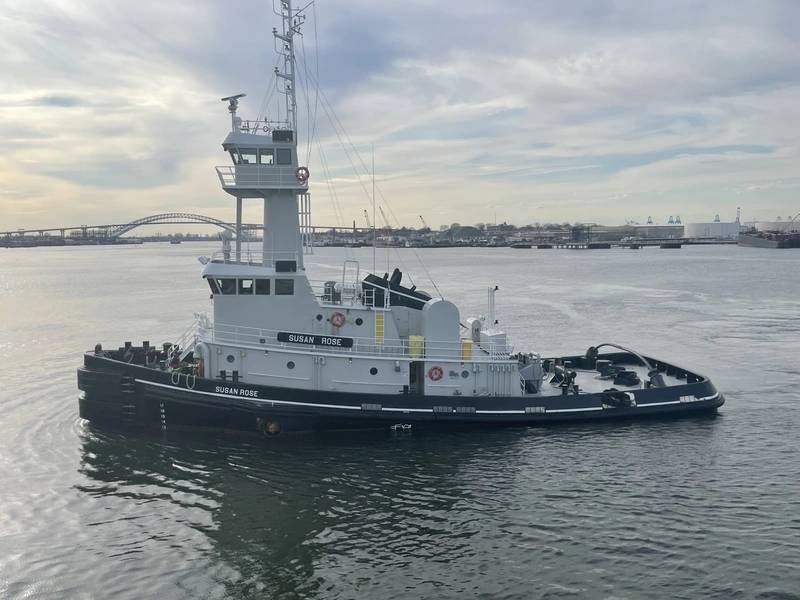 Rose Cay Maritime tugboat Susan Rose. (Image courtesy Rose Cay Maritime)