(U) Floating production, storage and offloading vessels have been the offshore development solution of choice for some time, a trend set to continue over the next several years.
A recent Rytsad Energy report forecast that from this year to 2030, 48 FPSOs will be awarded for greenfield developments, along with dozens of life-extension projects and redeployments.
Unfortunately for oil and gas companies looking to make production cleaner, the projected growth comes with an attendant escalation in greenhouse gas emissions.
Rystad says the FPSO sector will be responsible for 38 million tonnes of carbon dioxide emissions this year, increasing to almost 50 million tonnes per annum by the end of the decade, "unless steps are taken to curb emissions".
Many companies are doing just that, using electricity transmitted from shore to power operations where possible and implementing digital technologies to help avoid downtime and flaring.
There is also a lot of work under way on carbon capture technology for FPSOs. Rystad says the large P-80 and P-82 units that Sembcorp Marine and its subsidiary Keppel Shipyard are building for Petrobras for the Buzios field in Brazil's Santos basin will be equipped with carbon capture and storage (CCS) facilities.
"It is likely that these carbon capture technologies for FPSOs will become more commonplace in the future, especially since Petrobras has a keen interest in this sector and is driving demand," the report says.
CCS R&D
Norway's Aker Solutions has long been involved in CCS research and development, most famously for its work with Norway's Technology Centre Mongstad and its full-scale CO2 capture plant, online since 2012.
But interest in the technology — and a market for it — picked up considerably in recent years, prompting Aker Solutions to spin off its CCS business into a separate company, Aker Carbon Capture, in 2020.
The company has been working on a modularised offshore carbon capture plant dubbed Just Catch FPSO, with an initial development phase focused on harsh environment application offshore Norway.
"When the technology was still in Aker Solutions, we saw there was growing interest around how to decarbonise emissions from FPSOs," says Aker Carbon Capture chief commercial officer Jon Christopher Knudsen.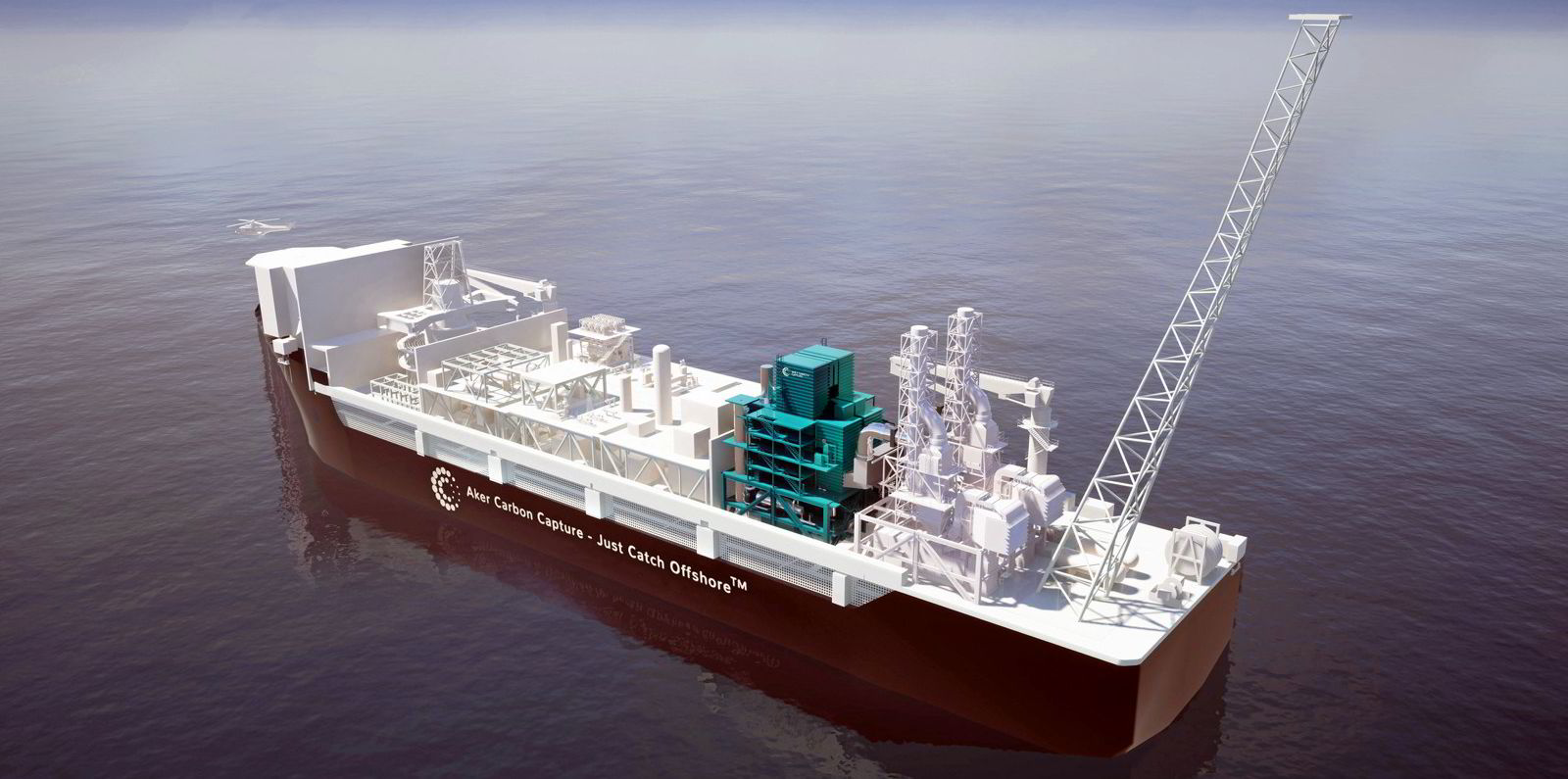 "We saw there was an opportunity to look at using some of the open slots that an FPSO often has in the early phases of its lifetime. And luckily for us, they were placed very close to where the emission points from the gas turbines were located.
"So this idea around carbon capture for FPSOs was born there, coming towards 2020, with companies like Equinor challenging Aker to develop the technology," he says.
The programme, now in its second development phase, reached an important milestone last October when the technology received DNV qualification for offshore applications.
Standardised modules
Just Catch FPSO is based on standardised modules that can be fitted with carbon capture units with capacity of 120,000 and 180,000 tpa of CO2.
The capacity can be increased and adjusted to meet specific requirements and the technology is compatible with the bulk of the gas turbines used on offshore oil and gas facilities, the company says.
Knudsen says the CO2 capture technology for offshore is much the same as the process in use at Mongstad and the company's other land-based projects, such as the Just Catch 100 currently being built at Twence's waste-to-energy facility in the Netherlands.
"There were some specific challenges. We had to do some adaptations," he says.
"That's what this verification we have done with DNV has primarily been focused on: motion testing, how do we make sure we get the same high capture rate when we are offshore and the vessel is moving."
Dutch floater powerhouse SBM Offshore has also been working on offshore CCS application for years and in 2020 launched the EmissionZero programme with the goal of having a "near-zero" emissions FPSO design ready by 2025, using a range of carbon-reduction technologies.
FPSO product line technical director Franck Fourrier says the initiative is a logical outgrowth of SBM's Fast4Ward programme, created in 2014, which is based on a standardised hull design and configurable topsides modules.
"Thanks to this platform and the principles we put in place a few years ago, the development of our [CCS] product is getting ready for execution," Fourrier says.
"With the Fast4Ward platform, we manage to eliminate a lot of the novelty risk, and that's a huge advantage," he adds.
Plug-and-play
"Basically, it is plug-and-play with our MPF [multipurpose floater] hull. All the interfaces are already there, so we have a de-risked platform, ready for the technology."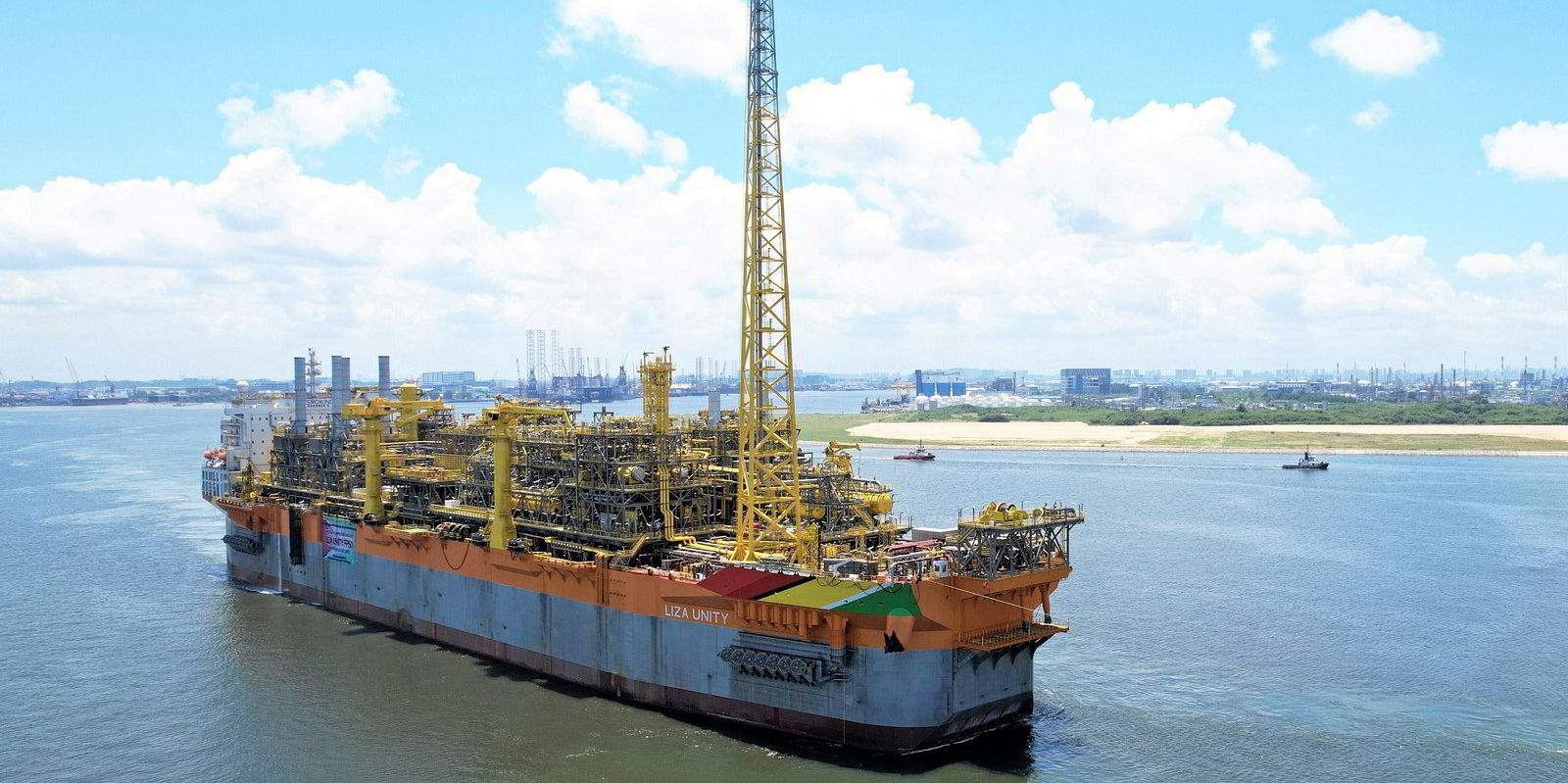 SBM group technology director Jaap-Harm Westhuis agrees: "Standardisation allows acceleration in many ways, including all these technologies related to emissions reduction. And that's why we have tried to marry the EmissionZero programme with the Fast4Ward programme, to deliver it to the market as quickly as we can."
The company's technology teams are developing "specific modules that can be utilised on our future FPSOs that will either improve energy efficiency, reduce emissions, or both", Westhuis says.
Making CCS systems for offshore applications more compact is a challenge, given the limited space on floating facilities.
"Space is always at a premium," Fourrier says. "But if we compare it to other floaters, I think the FPSO is probably better, because weight is less an issue than with other floating structures. So here we have an advantage."
Westhuis says one "pillar" of SBM's research is "process intensification, which in itself may have environmental benefits but its primary objective is to have more compact, more performant, technology, which in turn will free up space for additional technologies. So surely space is always a consideration … but using the Fast4Ward platform, we have standardised module layout so we are, at an early stage, able to de-risk potential clashes or lack of space."
Along with capturing emissions from gas-fired turbines — the single biggest source of carbon emissions on floating platforms that do not have access to power from shore — CCS offshore has other potential advantages.
"You have access to cooling water. You have access, maybe, to [pre-existing] wells for CO2 injection," Westhuis says.
The offshore environment adds "an element of complexity, but it also represents an opportunity for optimisation", he says.
Westhuis calls CCS "one of the more profound technologies" for tackling emissions offshore.
"I think it's relevant to emphasise there are a few obvious, big-ticket items, primarily carbon capture technology, that are really impactful," he says.
Pressure to act
The pressure to decarbonise offshore operations is intensifying.
"We've all seen the protests and we've all seen the targets," Joel Maisey, energy transition manager at UK offshore engineering consultancy Crondall Energy, told an audience at the FPSO EMEA Congress in London earlier this year.
"We have to reduce our emissions as an industry."
Taking action is an economic imperative as well as an environmental one: on average, each barrel of oil produced in the UK North Sea produces 23.7 kilograms of associated carbon dioxide, Maisey said, noting that much new project financing comes with an emissions threshold of 18 kilograms per barrel.
Power from shore can be a good option in many cases, but it has its limits.
"Electrification was the solution for all problems, for a while," says Knudsen.
Norway has probably done more than any other country to provide renewable energy from shore to offshore platforms, but it has also seen the backlash from higher electricity prices for non-oil and gas consumers, as well as questions raised about best uses for the domestic grid.
This could help bolster the case for continuing the use of gas from the field to generate power for a platform and its production systems.
Moreover, Knudsen says, "electricity is only part of what you get out of these gas turbines. It's also the heat that's produced, which makes up a significant part of the support for processes on board.
"So actually, taking out a gas turbine and replacing it with electrification is quite a task, because the electricity demand is just a fraction of what you need in heat demand."
Ultimately, he says, the decision must be considered case by case.
Engineers are exploring the concept of offshore "energy hubs" that can provide power for multiple platforms without the need for massive modifications to existing assets.
The UK government's North Sea Transition Authority is studying the potential for offshore microgrids that would be powered primarily by dedicated wind farms, but with battery storage and gas turbines to address intermittence.
"But people don't want to see gas power without carbon capture," Knudsen says. "It doesn't make sense."