(OEM) Chinese shipbuilder COSCO Shipping Offshore Engineering has held a groundbreaking ceremony in Qidong for the construction of a floating, production, storage and offloading (FPSO) vessel, which is destined to work for Petrobras in the Santos Basin pre-salt area offshore Brazil.
The Chinese company says that it held the groundbreaking ceremony for the P-82 FPSO, which it describes as "the world's largest FPSO project." According to the firm, the ceremony was attended by relevant heads and project team members of Singapore's Sembcorp Marine, ABS Classification Society, COSCO Shipping Heavy Industries Operation Center, and Qidong COSCO Shipping Offshore.
Furthermore, COSCO Shipping Offshore explains that the P-82 FPSO has a total length of 360 meters, a beam of 60 meters, a depth of 34.3 meters, and a total weight of more than 8,160 tons of hull steel structure, making it the largest FPSO project to date.
While elaborating that this is the first project under a new model between BPA, Sembcorp Marine and COSCO Shipping Offshore in Qidong, the firm highlights that the FPSO has a designed storage capacity of 22.5 million barrels and will connect 7 wells equipped with CO2 capture and geological storage (CCUS) technology using divergent mooring.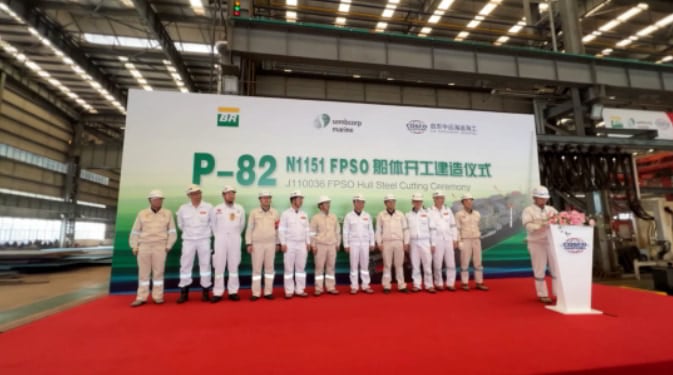 However, when Petrobras signed a contract with Sembcorp Marine Rigs & Floaters for the construction of the P-82 FPSO for operations on the Búzios field, the Brazillian giant said the FPSO would have the capacity to produce up to 225,000 barrels of oil per day, process up to 12 million m³of gas per day, and store more than 1.6 million barrels.
At the time, Petrobras also underlined that the FPSO would incorporate the so-called closed flare technology, which increases gas utilisation and prevents it from being burned into the atmosphere. In addition, the project foresees the interconnection of 16 wells, 9 of which are producers and 7 injectors.
The P-82 FPSO is scheduled to start operating in 2026 and will be the tenth platform to be installed in the Búzios field, where Petrobras is the operator, with a 92.6 per cent stake in the field, having CNOOC and CNODC as partners, with 3.7 per cent each.
Regarding other FPSO units destined to work at the Búzios field, SBM Offshore recently completed the project financing of the FPSO Almirante Tamandaré for a total of $1.63 billion, secured by a consortium of 13 international banks.
This FPSO will also have a processing capacity of 225,000 barrels of oil and 12 million m3 of gas per day.