3R Petroleum Óleo e Gas S.A. ("3R" or "Company") (B3: RRRP3) hereby presents its results for the third quarter of 2022 ("3Q22"). Except as indicated otherwise, the financial and operational information described in this release is presented on a consolidated basis and in Brazilian Reais (R$), in accordance with International Financial Reporting Standards (IFRS).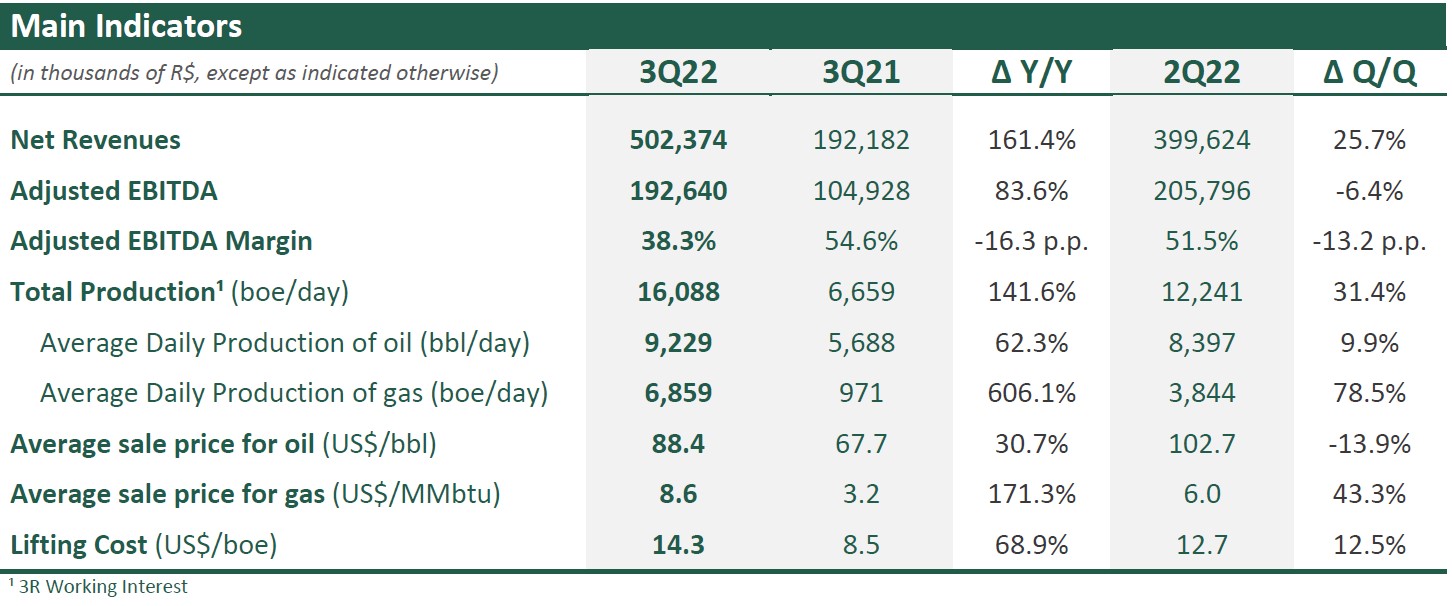 HIGHLIGHTS OF THIRD QUARTER AND POST REPORTING DATE EVENTS
Execution of Business Plan: Organic Growth and Mitigation of Risks
• Conclusion of funding for the Potiguar Cluster: US$ 1.0 bi contracted with a strong syndicate of banks;
• Issue of R$ 900 million in local debentures, resources for working capital and capex;
• Incorporation of 2 new assets to 3R's operations: Peroá and Fazenda Belém Clusters in August 2022;
• Six of nine assets already integrated: two closings expected for 4Q22, Pescada and Papa-Terra Clusters;
• Management elected for 2-year term of office, with focus on organic development of our proposition.
Development of a robust and diversified portfolio
• Addition of reserves and production based on rise in working interest in subsidiary 3R Offshore;
• Portfolio of 534 million boe in 2P certified reserves, being 89% oil and 11% gas;
• 183 million boe or 34% in PDP reserves, reducing operational execution risk;
• First onshore drilling rig contracted and in phase of mobilization in Rio Grande do Norte (RN);
• Pro forma portfolio1 posted production of 43.5 thousand boe in September/22, driven by the operational re-start-up of the Papa Terra Cluster;
• Average production of 16.1 thousand boe/d in 3Q22, +141.6% Y/Y;
• Huge increase in gas production, +606.1% Y/Y, resulting from the performance of the Rio Ventura Cluster and the integration of the Peroá Cluster.
Solid Financial Results in 3Q22
• Record net revenues of R$ 502.4 million, growth of 161.4% Y/Y;
• Adjusted EBITDA worked out to R$ 192.6 million, a rise of 83.6% Y/Y;
• Adjusted EBITDA Margin was 38.3%, even considering expenses related to assets in the operational transition phase;
• Net income of R$ 469.8 million, supported by the operational and financial results;
• Capex of US$ 12.3 million, capture of low hanging fruits opportunities and preparation for drilling campaigns;
• Lifting Cost of US$ 14.3/boe, competitive level since the beginning of 3R's activities.