Eric Haun, Editor
(OE) An offshore wind industry is growing in the U.S. with an aim to meet the Biden Administration's goal of 30 gigawatts (GW) of offshore wind by 2030, and eventually 110 GW by 2050.
But as is the case for any new industry that is building up, there are going to be bumps along the way. The U.S. offshore wind industry is currently grappling with rising costs amid unprecedented supply chain issues and inflation, among other issues.
One of the main challenges unique to offshore wind is a shortage of vessels. It will take a large fleet of U.S.- and foreign-flagged ships to lay the groundwork for and then construct and operate a growing pipeline of projects along the U.S. East Coast, and later on off the West Coast and in the Gulf of Mexico.
Much has been written about these vessel bottlenecks that could hamper the offshore wind industry in the years ahead. "The U.S. fleet is under-prepared for the majority of offshore wind scopes," said Jonathan Lints, head of U.S. offshore and director of subsea and renewables at Clarksons, noting that there are sectors in particular that are often overlooked. "I think a lot of discussion, primarily, is on commissioning service operation vessels (CSOV), wind turbine installation vessels (WTIV) and crew transfer vessel (CTV) markets, but there are a lot more vessels than that are needed for these types of operations."
In fact, of all vessels currently working in support of the U.S. offshore wind industry, the majority can be classified as utility, survey and platform supply vessels (PSV). Speaking at the Business Network for Offshore Wind's Ports & Vessels Summit in New Orleans in September, Lints said the industry has already been turning to temporary and permanent conversions of U.S.-flagged PSVs "[making] the jump into renewables on the East Coast" for survey-type work, bubble curtain work and walk-to-work activities.
Companies such as Tidewater, Edison Chouest Offshore, Hornbeck Offshore, Guice Offshore, Northstar Marine, Odyssea Marine and Atlantic Oceanic are all operating PSVs that have shifted for work in U.S. offshore wind.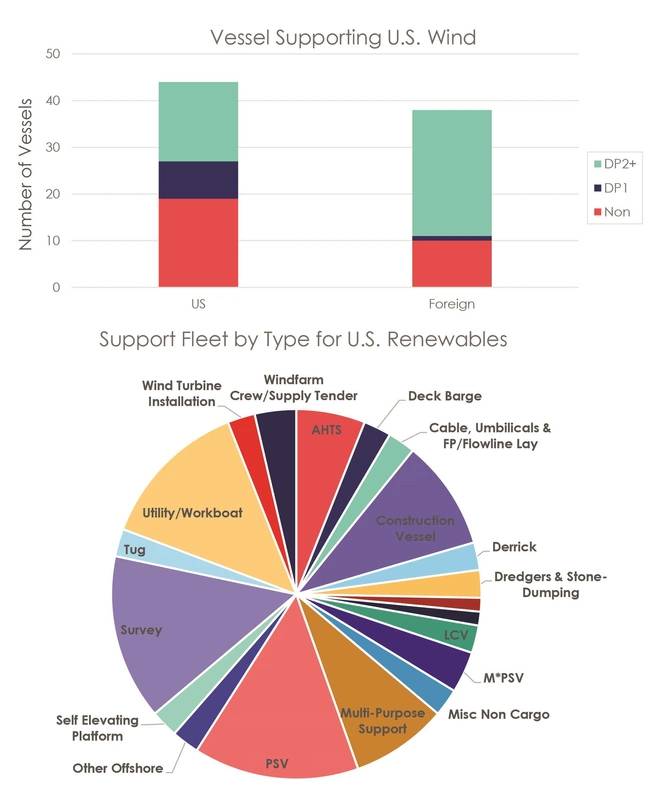 (Source: Clarksons)
Problems start to arise when looking longer term at project pipelines versus fleet availability. PSVs that are both suitable for the work and available for hire are becoming increasingly hard to come by. Lints noted that there are currently 52 stacked U.S. DP2 PSVs, a decrease of about 8% from a year ago. However, the largest of these vessels is 280 feet, meaning there are no large (+300-foot) PSVs currently in stack amid an uptick in an offshore oil and gas sector that shows no signs of slowing down. "It's not easy to just bring up PSVs from cold stack and bring them into renewables because [those that are available] are not the large ones you need for the work scopes," Lints said.
Making matters worse for offshore wind, oil and gas activity has been increasing, and vessel dayrates have risen in step with oil prices, leaving little incentive to transition outside of a market where the work has been readily available and profitable for multipurpose PSVs (MPSV) and other support vessels, including subsea.
"We've had some MPSVs migrate over to the renewables space, but not a huge amount because of the dayrates that they're getting in the oil and gas markets," Lints said. "That's having an impact on the cost, etc. of bringing some of these subsea vessels to do the support work in renewables.
Some of the Jones Act MPSVs that have gone north for offshores wind include Otto Candies' Cade Candies and Paul Candies, which relocated to the East Coast contracts that are more than a year long. Additional vessels such as Ross Candies and Wyatt Candies are also anticipated to leave the U.S. Gulf of Mexico to support offshore wind, Lints said. And Hydra's Subsea Responder I & II, while smaller and not U.S. flagged, are working as more commercially viable options for inspection campaigns in support of Dominion's Coastal Virginia Offshore Wind project.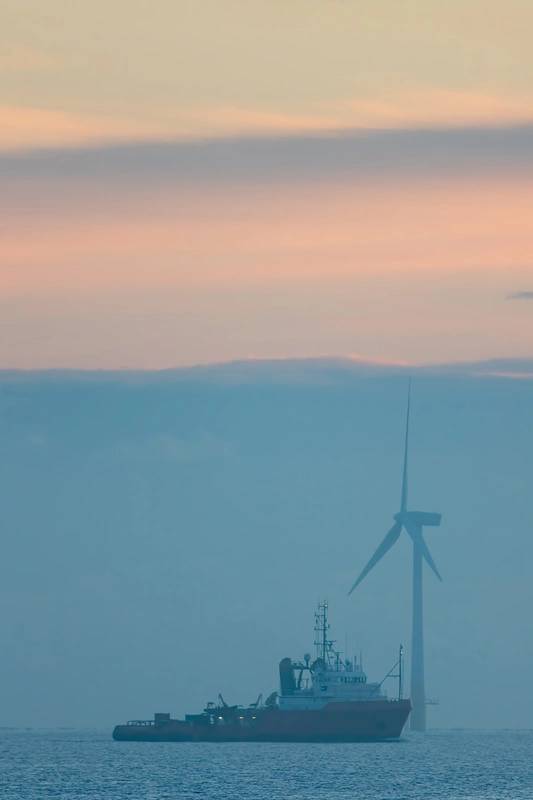 In Europe, vessels can represent as much as 8-15% of the capex for an offshore wind farm. Vessels are generally costlier in the U.S. (© Ian Dyball / Adobe Stock)
Lints also pointed to a shortage of large subsea construction vessels for support work. "Subsea vessels are needed not for the big lifting of foundations," he said. "It's maybe installing concrete mattresses, it might be picking up boulders, it might be identifying [unexploded ordnance (UXO)] . . . cable lay support, trenching, grouting."
This additional work sometimes gets overlooked, Lints said. "A lot of these vessels weren't necessarily planned when looking at construction of the wind farm. I think that's something that the U.S. market needs to be ready for," he explained. "What happens when things go wrong? Unfortunately, they do, or there's delays, and other vessels and contingency needs to happen. But whether we have that contingency at the moment, I think, is going to be part of the challenge."
Many of these vessels simply aren't present in the U.S. market, or they're too expensive or lack incentive to pivot away from oil and gas and up to the East Coast, Lints said. Why leave a healthy spot market in the Gulf of Mexico for another up north that is limited with less contingency and is more costly to operate in?
In the North Sea, there are currently 87 vessels operating with 10- to 25-ton cranes that can be used for this type of support work (60 when excluding SOVs), Lints said. The U.S. only has eight. And of the United States' six vessels with 26- to 50-ton cranes, only two are active heave-compensated.
"The North Sea started the same way as here [in the U.S.], where we needed to convert vessels because subsea vessels were too expensive," Lints said, noting that many of the European subsea vessels only transitioned to renewables as a result of the downturn in oil and gas. "We really are lagging at the moment in the U.S."
So, what's going to happen? "We know newbuilds are unlikely, or they haven't happened for a while—that's for sure," Lints said. "I think we'll see an increase in [sale and purchase (S&P)] activity; we're already seeing that at the moment. The problem with that is these vessels are not coming particularly cheap because the owners are seeing extremely good dayrates.
"What we'll see is a lot of vessel conversions and modifications. In order to bring ourselves up to speed, we're going to have to take large offshore support vessels (OSV) and [install] cranes, portable accommodation module (PAM) units, gangways, A-frames, winches, etc. for subsea. I don't see any other way it can be done," Lints said. "It's inevitable that some of these vessels are going to be operating outside of the normal parameters, but I think that's just something we're going to have to accept."