(OE) Japan's Mitsui O.S.K. Lines (MOL) will invest in a floating wind technology start-up, TouchWind.
TouchWind is developing the tilting angled one-piece rotor wind turbine which is expected to reduce wind interference between wind turbines that tends to occur in large wind farms and improve overall wind farm power generation efficiency.
In addition, MOL said, its unique design enables the wind turbines to operate in strong winds, reduces the weight of the wind turbine and floating parts, and is expected to improve the utilization rate and the economics of the wind turbine equipment through their lifecycle.
Since 2019, TouchWind has been conducting tests to demonstrate the principle of its wind turbine technology with the help of grants from the Government of the Netherlands and supporting companies.
In July 2023, TouchWind received a grant from the Netherlands Enterprise Agency, Government of the Netherlands, to manufacture up to 10 wind turbines with a rotor diameter of 6 m (output 12 kW).
From 2024 to 2025, TouchWind plans to conduct tests to verify the effect of reducing wind interference between wind turbines on land and in the sea in the Netherlands.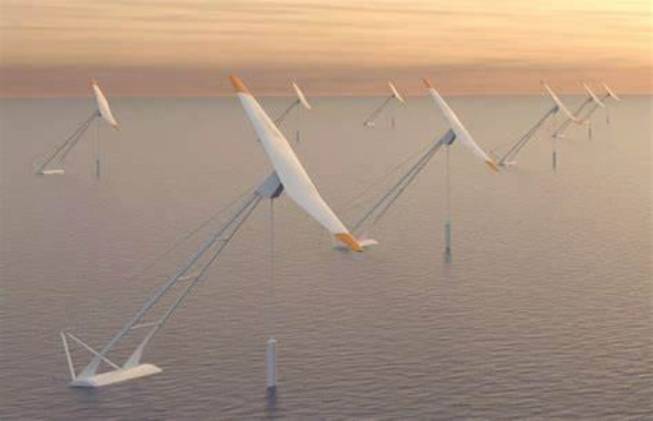 Credit: MOL
Ryota Hayashi, General Manager responsible for Wind Power Projects Unit in MOL states: "We are pleased that we can continue the journey with TouchWind and have become a shareholder of the company as we see exciting potential in their technology."
Founder and CEO of TouchWind, Rikus van de Klippe said: 'We have been working together for over a year now on the further development of our tilting angled one-piece rotor floating wind turbine. Field testing with a 6m diameter rotor is in full preparation at the Oostvoorne lake in the Netherlands. With MOL as a shareholder and their investments, we can speed up our testing program to prove our technology.'
With the participation of investment in TouchWind, MOL will advance technology development for the practical application of its wind turbines and aim to acquire business opportunities within the supply chain of next-generation floating offshore wind turbines in Europe, Japan and other Asian regions in the future, MOL said.
"In accordance with the "MOL Group Environmental Vision 2.2, " we set a goal of achieving net zero emissions by 2050. In order to create a sustainable world, we will contribute to the reduction of GHG emissions not only from our own company but also from society through the promotion of renewable energy businesses," MOL said.