By Josh Saul
(Bloomberg) Offshore wind has been a long time coming in the US, but after a decade of false starts the country's first-ever turbine installation for a big project is finally happening.
A heavy-lift vessel began sinking foundations last week about 15 miles off Martha's Vineyard, Massachusetts. It's working for Vineyard Wind, a joint venture between Copenhagen Infrastructure Partners and Avangrid Inc.
The Orion is enormous, as long as two football fields. While it works on the seabed, two smaller vessels are deploying air compressors and perforated hoses below the waves to create bubble curtains that will dampen sound to protect marine life.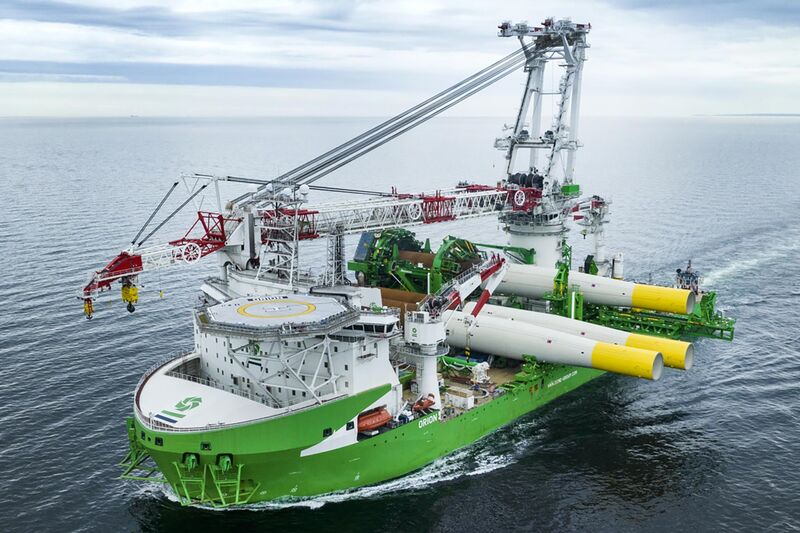 "We can finally say it: As of today, there is 'steel in the water,'" Vineyard Chief Executive Officer Klaus Moeller said last week.
That's not the only source of wind power-related activity in US waters right now. A vessel even larger than the Orion, the Bokalift 2, arrived off Rhode Island last week to prepare for the installation of turbines for South Fork Wind, a joint venture between Orsted AS and Eversource Energy.
This progress comes not a moment too soon for President Joe Biden. The US is an international laggard in offshore wind, and Biden has set a target for 30 gigawatts of capacity by 2030 — enough to power more than 10 million homes — as part of his push to decarbonize the electrical grid and slow climate change.
But sinking underwater foundations may be one of the more straightforward challenges for the emerging US industry. Republican lawmakers have seized on a rash of whale deaths in the Atlantic to demand the sector stop in its tracks.
One congresswoman from Florida has pushed the federal government to study the effects of wind energy on military readiness, marine environment and tourism.
The federal government says there's no evidence that noise from wind developments can kill whales.
Then there's inflation, which has raised the cost of projects by more than 20% since 2019. In some instances, developers have delayed work, taken writedowns and asked to renegotiate electricity contracts.
On top of all that, there's the sheer scale of what the Biden administration is trying to achieve. There needs to be a lot more "steel in the water" — almost 40 farms the size of Vineyard's, in fact — to reach the administration's goal for offshore wind.
So expect more stirring tales of marine engineering feats and a lot more political squabbling. We've barely seen the start of it.