(OE) U.S. offshore shipbuilder and shipowner Edison Chouest this week marked the 50-percent completion milestone for the U.S.-flagged ECO Edison, the first Jones Act-compliant wind farm SOV. 
Senior executives from offshore wind developers Ørsted and Eversource toured the Edison Chouest Offshore shipyard in Louisiana to see the progress on the SOV.
ECO Edison will be delivered in 2024 and immediately provide operational support out of Port Jefferson, New York, for Ørsted and Eversource's joint venture offshore wind portfolio, which includes South Fork Wind, Revolution Wind and Sunrise Wind. Once complete, South Fork Wind, Sunrise Wind and Revolution Wind will generate approximately 1.7 GW of offshore wind power, enough to power over a million homes.
The vessel, which will be over 260 feet long and capable of housing 60 crew members, will be utilized during the operation and maintenance (O&M) phases of the wind-farm projects, serving as an at-sea base of operations to accommodate and transfer technicians, tools and parts safely to and from the individual Wind Turbine Generators.
"This shipyard and this vessel are living proof that American offshore wind energy is providing economic opportunity and creating jobs today across the country," said David Hardy, Group EVP and CEO Americas at Ørsted. "This first American service operations vessel represents the ingenuity of businesses like Edison Chouest to build upon their legacy in offshore energy and to supply a cutting-edge vessel that will allow workers to safely and effectively operate offshore. The offshore wind energy industry is utilizing the talented and expert Gulf Coast workforce, and we're proud that this first-of-its-kind vessel will support the production of more American energy, strengthening our national security and powering millions of American homes."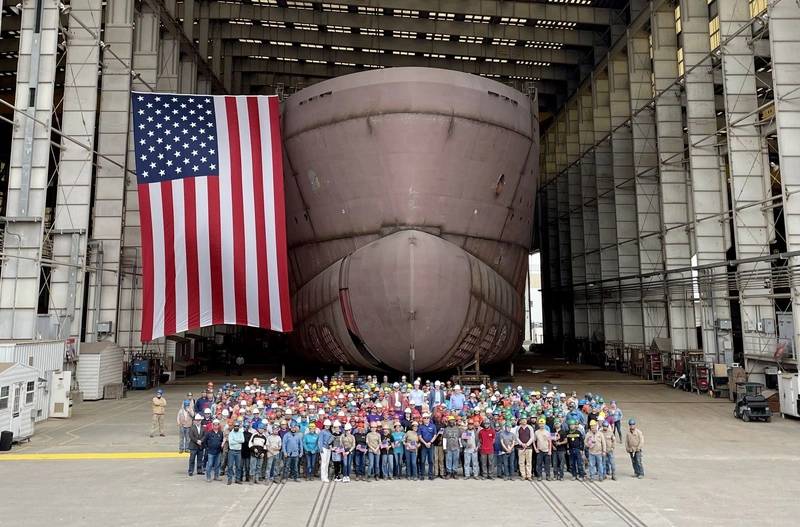 ©Edison Chouest
"Offshore wind is a key driver of economic growth, creating well-paying jobs in states across the country and forging a new, domestic supply chain that, together, will position our nation as a global leader in the industries of tomorrow, today," said Mike Ausere, Vice President of Business Development at Eversource Energy. "This vessel is a testament to American leadership: Designed and built in the United States; as long as the Superdome is tall; able to host 60 wind turbine technicians – all whom will benefit from the vessel's state-of-the-art accommodations to keep them safe and well-cared for while at sea; and ready to support the long-term operations and maintenance of our portfolio of offshore wind farms and consequent production of enough energy to power more than a million U.S. homes."
"We're proud to put our expertise to work on such an important vessel for the offshore wind industry's future American fleet," said Mr. Gary Chouest, President of Edison Chouest Offshore. "Thanks to our decades of experience in offshore industries, our in-house engineers, and the hard work of more than 400 of our shipbuilders, we're now more than 50-percent complete on this historic, specialized vessel that will serve as a model for the U.S. offshore wind industry and a homebase for American offshore wind technicians for years to come."

The ECO Edison will include a "walk to work" motion-compensated gangway that allows technicians to easily and safely access the wind turbines.
A smaller, so-called "daughter" craft onboard can be deployed to efficiently maneuver the crew across the wind farms.