RWE and Northland Power have selected wind turbine maker Vestas as the preferred supplier for their up to 1.6-gigawatt (GW) cluster consisting of four offshore wind farm sites in the German North Sea.
A minimum of 104 15 MW Vestas offshore wind turbines (Type: V236-15.0 MW) are planned to be installed north of the island of Juist.
A service contract for the wind turbines will also be also included. All deliverables are subject to the final investment decision for the individual phases of Nordseecluster (A and B).

Last year, RWE (51%) and Northland Power (49%) established a joint venture to develop the Nordseecluster.
The partners expect to achieve substantial economies of scale and leverage synergies during the development, construction and subsequent operation of the four wind farm sites.
"The preferred supplier agreement (PSA) recently signed with Vestas, which encompasses all four projects, reflects the efficiency created when bundling activities such as procurement," RWE said.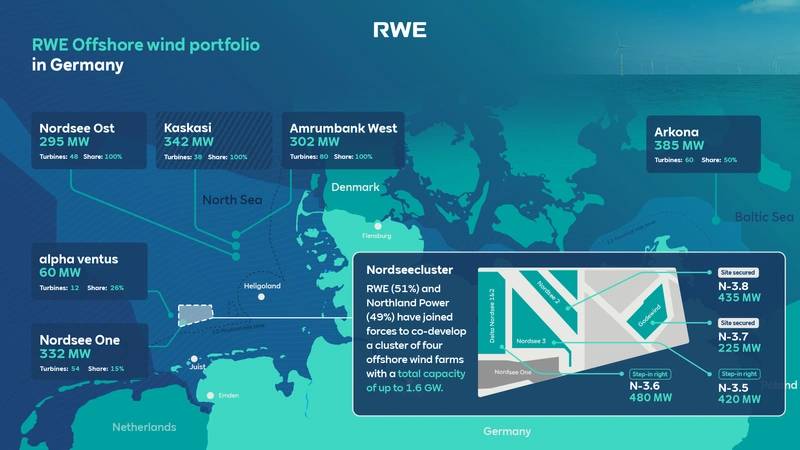 ©RWE
Sven Utermöhlen, CEO RWE Offshore Wind: "The expansion of renewable energies must be rigorously driven forward. Faster offshore expansion is particularly important to simultaneously achieve climate targets and to create more energy independence.
"RWE is making its contribution to this. This includes the collaborative delivery of the 1.6-gigawatt Nordseecluster with Northland Power, through which we can achieve considerable synergies at our new wind farms, while at the same time actively supporting the energy transition in our home market Germany."

The Nordseecluster will be constructed in two phases: Two wind farms (N-3.8 and N-3.7) with a combined capacity of 660 MW are currently in the permit application phase.
Turbine installation at sea is expected to start in 2026, with commercial operation in early 2027. Of the 104 Vestas turbines in total, 44 are reserved for this initial stage (Nordseecluster A).
The two wind farms (N-3.6 and N-3.5) of the second phase (Nordseecluster B) will add a further 900 MW of capacity. For both sites the partners plan to bid and to exercise their step-in rights in the German Government's offshore wind auctions this year – as they did in 2021 for the sites N-3.8 and N-3.7. Offshore construction works for Nordseeclsuter B are scheduled to begin in 2028 with commercial operation to start beginning of 2029.

The Nordseecluster will be in close proximity to the existing 332 MW Nordsee One wind farm which RWE and Northland Power co-developed and continue to operate jointly.