EEW Special Pipe Constructions (EEW SPC) said on Friday that it has set a new record for its heaviest monopile built.
The German offshore wind monopile manufacturer broke its own record, which was only set in July 2022, when the company delivered a 1,421-tonne monopile for the Baltic Eagle offshore wind farm.
Now. at 1,895 tons, the latest heaviest monopile in the EEW SPCs history was produced at the Rostock site in Germany at the end of January.
This monopile is part of the order for the 800 MW Vineyard Wind 1 wind farm, which will be the first commercial offshore wind farm in the USA.
In total, EEW SPC will process over 98,000 tons of steel into monopiles by the summer of 2023. The monopiles will each have a diameter of 9.6 meters and a maximum length of 85 meters.
Vineyard Wind 1 will be built some 15 miles off the coast of Massachusetts. It is anticipated that the wind farm will deliver its first power later in 2023. It will be able to power the equivalent of more than 400,000 households.
"The American offshore wind market is one of the most important future markets for the EEW Group. With EEW American Offshore Structures (EEW AOS), which is located at the Paulsboro Marine Terminal in New Jersey, we are able to contribute to the energy transition in the US. The facility will create around 260 jobs in the first development and manufacturing phasem," EEW said.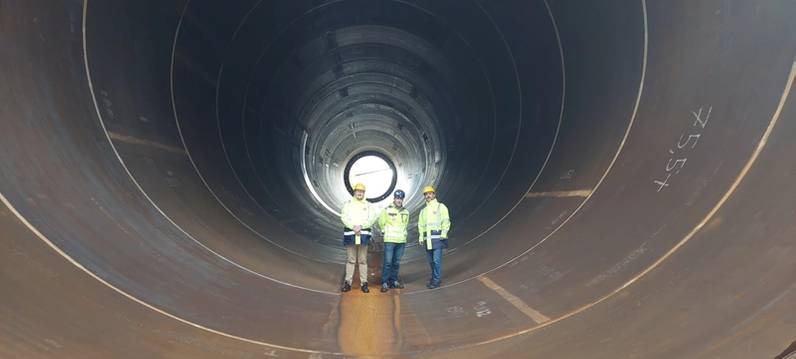 Klaus Møller (CEO Vineyard Wind), Jan Heyne (Technical Project Director EEW SPC) and Alfonso Gomez-Acebo Diez (EPC Deputy Director Vineyard Wind) stand inside a monopile for the Vineyard offshore wind project. Credit: EEW