Petróleo Brasileiro S.A. – Petrobras, following up on the release disclosed on 10/31/2022, informs that it concluded the bookbuilding procedure for the issue of real estate receivables certificates (CRI), in up to 3 (three) series, as part of the 1st (first), 2nd (second) and 3rd (third) series of the 67th (sixty-seventh) issue of Opea Securitizadora S.A. (Securitizadora), backed by book-entry commercial notes of the Company's 2nd issue (Emissão), without collateral and fiduciary guarantees, for private placement, pursuant to the terms of Comissão de Valores Mobiliários (CVM) Instruction No. 400, CVM Resolution No. 60 and other applicable legal and regulatory provisions, resulting in the issuance of 3 (three) series for a total amount of R$ 1,514,971.00 (one billion, five hundred and fourteen thousand, nine hundred and seventy-one reais).
The table below presents a summary containing the final conditions obtained and the allocation of the CRIs among the series of the issue: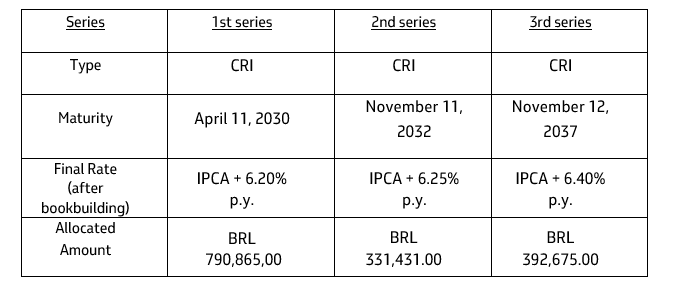 The offering will only begin after (i) the requirements set forth in the offering documents have been met; (ii) the CVM grants registration of the offering; (iii) the disclosure of the commencement announcement; and (iv) the final prospectus is made available to investors, pursuant to CVM Instruction 400.
The final settlement of the operation is expected to occur on 12/05/2022, according to the schedule provided in the offer document.
This communication to the market is exclusively informative, in accordance with the legislation in force, and should not be interpreted or considered, for all legal purposes and effects, as a sales and/or disclosure material of the Commercial Notes and/or of the CRI offering.