French vessel owner and offshore services provider Bourbon has revealed plans to build 38 more new units after the first two crew boats from its new Bourbon Surfer-200X series completed their sea trials.
Bourbon's two new crew transport vessels in the Surfer-200X series have completed their sea trials off the Normandy coast in France. The vessels will operate along the Gabonese coast for TotalEnergies in the next weeks. Meanwhile, Bourbon has announced its intention to have 40 new units in total as part of its goal to accelerate its fleet transformation within the next three years.
The first vessel of the Surfer-200x series is on its way to operate, after two years of design, engineering and construction. This new 19-metre, 30-knot cruising speed crew boat can accommodate 30 passengers.
Bourbon reported on Thursday that the offshore market will soon be able to experience the comfort and technical capabilities of these two, new crew boats, while three additional Surfer-200x units are already under construction at Efinor-Allais French Shipyard in Cherbourg. The remaining 35 vessels are expected to be built within the next three years.
The 19-metre Interfields vessels and 26-metre Crewliners along with 38-metre ones will be incorporated into the new fleet. These vessels will be equipped with new-generation engines and cabins with an innovative design. The aim is to capitalise on the series construction for better reliability, which is part of Bourbon's commitment to maintaining its operating standards by ensuring the average age of its fleet at eight years.
François Leslé, CEO of Bourbon Mobility, commented: "These new vessels prefigure our company's crew boats Surfers for the mid-term. They are not only a symbol of the renewal of the Interfield fleet but also a strong signal sent to our clients: Bourbon's will is to innovate and anticipate market trends."
The new type of vessel was designed and built based on users' experience obtained from passengers and Bourbon's pilots and crews. The new series integrate more than 150 specific comments from the operational side that led to several improvements for passengers such as improved seating comfort with increased legroom and higher headrest, noise isolation and reduced vibrations thanks to the shock absorbers installed under the seats.
According to the company, the new vessels also offer more spacious volumes of the cabin in general, charging points allowing passengers to recharge all their electronic devices and panoramic windows for a better view of the environment. The new vessels have variable led lighting and an optimised air conditioning system.
Since Bourbon has also tried to integrate as much feedback as possible from the pilots to make their life on board easier and safer, the vessels offer an improved visual and physical access to all key equipment in the engine room and vessel's hull structure reinforcement for better durability and safety.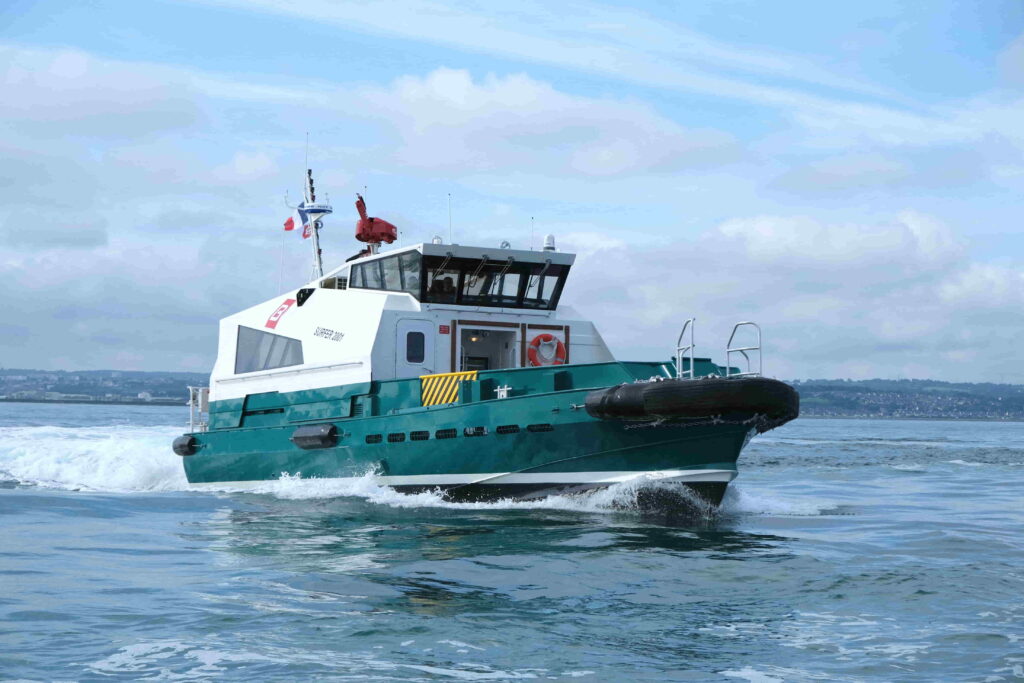 The vessel provides the installation of five CCTVs on board allowing the crew to monitor passenger safety, including one in the boat landing zone as well as an upgrade of the ergonomics and comfort of the whole wheelhouse.
Bourbon outlined that these new vessels contain a state of the art navigation equipment tools and its user interface offers two multi-display touch screens with a new bridge positioning to guaranty a better 360° visibility and a limitation of the heeling effect.
The overall volume for the cabin crew has been increased and a new sitting area was set up for the crew, while a partition system has been placed between the wheelhouse and the passengers' cabin to reduce noise pollution.
Bourbon claims that specific attention has also been brought to reduce the greenhouse effect in the wheelhouse, while LEDs and solar panels have been installed to replace the classical lighting system and reduce power consumption.
"With this new series, Bourbon continues to offer the best economic and environmental alternative to helicopter transport, but also a better level of comfort and safety for both passengers and crew, in line with our ambition of operational excellence" added Leslé.